"Madeleva: A Play in Several Voices"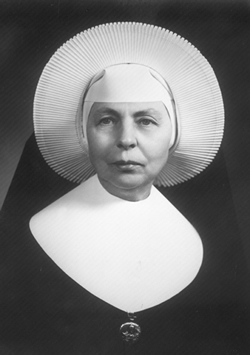 Sister M. Madeleva WolffMadeleva: A Play in Several Voices will be performed on Thursday, March 20, 7 p.m., in O'Laughlin Auditorium. The work commemorates the life of former Saint Mary's College president, Sister M. Madeleva Wolff, CSC. Sister Madeleva was a visionary, an educator, a medieval scholar, a poet, and a woman of deep spiritual conviction. In her 27 years as president (1934-1961), she put those gifts to good use leading Saint Mary's to national prominence as a premier Catholic liberal arts college. 2014 marks the 50th anniversary of her death.
Sister Kathleen Dolphin, PBVM, director emerita of CFS, felt the 50th anniversary was an opportunity to recall Sister Madeleva's impact on the College while noting current contributions to society by contemporary women religious. Elizabeth Groppe, who began as director of CFS this academic year, carried forward plans for the series and solicited the help of two faculty members in the creation of a play celebrating the life of Sister Madeleva.
In the fall, students in English professor Laura Haigwood's Writing Proficiency Course, Saint Mary's Women, as well as those in lecturer Susan Baxter's Playwriting I course, wrote essays and dramatic monologues about Sister Madeleva. Baxter then created a 90-minute play which uses the student works as "building blocks," also drawing heavily from memories submitted by alumnae, Sister Madeleva's own words, and research by Gail Porter Mandell, Sister Madeleva biographer and professor emerita of humanistic studies. Also, student creations and alumnae submissions have been gathered into a commemorative booklet, which will be available this spring.

Groppe is excited about the play project and what the students have learned and achieved.
"I am so grateful to Laura Haigwood and Susan Baxter for their tremendous work on this project. Susan in particular has spent many long hours on the play composition and production. Gail Porter Mandell writes in her biography Madeleva: One Woman's Life that Sister Madeleva would never have developed her many gifts without the example of the female role models she found in the convent, the literary world, and the Catholic tradition. The play Madeleva: A Play in Several Voices will bring Sister Madeleva to life for a new generation of young women, for whom she is a model of a woman of prayer who surmounted many challenges to become a distinguished scholar, poet, educator, and leader in both Catholic higher education and the life of religious communities of women."
Please contact the Moreau Center Box Office at MoreauCenter.com or (574) 284-4626 to reserve tickets. Tickets are free to Saint Mary's/Notre Dame/Holy Cross students, faculty, and staff as well as Sisters of the Holy Cross. Tickets are also free to theatre students, faculty, and staff from IU South Bend and Bethel College. Otherwise, tickets are $10 for adults and $5 for senior citizens.