Religious Studies Professor Honored with Maria Pieta Award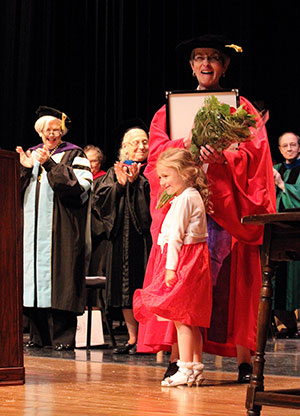 Mia Kaminski soaks up the applause after presenting
a bouquet of roses to her great-aunt, professor of
religious studies Phyllis Kaminski. The professor is
this year's recipient of the Maria Pieta Award.Contact:
Gwen O'Brien
Director of Media Relations
Saint Mary's College
(574) 284-4579
May 5, 2014 (Notre Dame, Ind.)—Saint Mary's College Dean of Faculty Vickie Hess presented Phyllis Kaminski, professor of religious studies, with the Maria Pieta Award at Honors Convocation on Sunday, May 4. The recipient of the award is kept secret until the Commencement-related event. Kaminski was not only surprised by the honor, but also by her relatives who came from all over the country to celebrate with her. Her great-niece, Mia Kaminski, appeared on stage in O'Laughlin Auditorium to present her with roses.
The Maria Pieta Award was established in 1976 in honor of Sister Maria Pieta, CSC, who was a teacher and an administrator at Saint Mary's College. The award recognizes the quality of teaching in courses for first-year students and sophomores. Kaminski has been with the College for 25 years.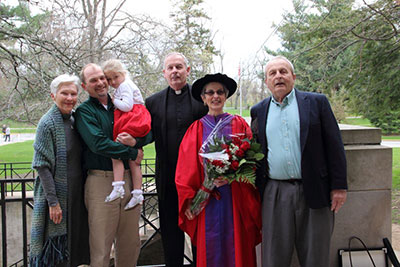 Phyllis Kaminski, center, poses with her brothers, the Rev. Frank
Kaminski, S.J., and Dr. Paul F. Kaminski, far right. On the far left is
Paul's wife, Barbara, as well as Mia Kaminski and her dad (Phyllis'
nephew) David Kaminski.Kaminski's colleague and friend Stacy Davis, associate professor of religious studies, wrote her award citation. In it Davis quoted students who nominated Kaminski for the award. One student said the professor "embodies the mission of Saint Mary's by encouraging her students to be critical thinkers, vocal leaders, and active participants in our Saint Mary's community." Her commitment to thoughtful discussion and to students learning from each other creates a classroom filled with lively dialogue, one where classmates begin as strangers and end as friends, according to the citation.
Another student, in her letter of recommendation, praised Kaminski for addressing difficult questions with grace and compassion: "I was confident that any of my questions would not be misjudged or misinterpreted. On the contrary, this professor encouraged and challenged me to have an honest dialogue with those whose points of view differ from mine." The only non-negotiable requirement in this professor's classroom is a fearless willingness to engage the world in all of its diversity, the citation states.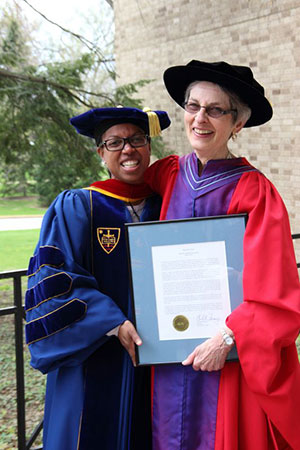 Professor Phyllis Kaminski, right, poses
with Stacy Davis, associate professor of
religious studies, who was among those
who nominated her for the Maria Pieta
Award.This award winner does this in traditional ways – through rigorous reading loads and numerous writing assignments, Davis wrote. For Kaminski, learning does not begin and end in the classroom. As one student pointed out in her nomination, "Her office door is always open.  She leads by example and upholds all of the Saint Mary's values."
Kaminski's favorite saint is Saint Ann, Jesus' grandmother, Davis pointed out. Saint Ann is represented in a number of artistic works teaching Mary to read, making her a fitting example of the importance of educating women.
Davis reflected after Honors Convocation, "Phyllis deserves the Maria Pieta because of her ability to transform her students into scholars of religion and not just religious studies students. She expects her students to be critical thinkers and reflective young women, and she gives them the tools they need to be both."
Davis was among a group of Gender and Women's Studies Program faculty who nominated Kaminski. 
"I think it's important to note the number of junior faculty who look to Phyllis as an example of excellent teaching," Davis said. "Phyllis was my department chair when I was a junior faculty member, and most of what I learned about how to be an effective teacher, I learned from her."
About Saint Mary's College: Saint Mary's College, Notre Dame, Ind., is a four-year, Catholic, residential, women's liberal arts college offering five bachelor's degrees and more than 30 major areas of study, such as business, nursing, art, chemistry, and social work. The College's single-gender environment has been proven, in study after study, to foster confidence, ethical leadership, and strong academic success. Saint Mary's College ranks 76 among the 248 "Best National Liberal Arts Colleges" for 2014 published by U.S. News and World Report. Founded in 1844 by the Sisters of the Holy Cross, Saint Mary's College's mission is to educate women and prepare them for postgraduate success whether it's a first job, graduate school, or postgraduate service.