Pediatric Respite students help medically fragile children (South Bend Tribune)
 

Saint Mary's College Pediatric Respite Program offers support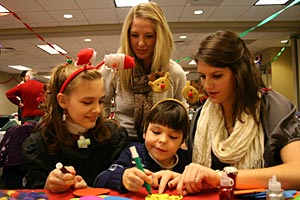 Brittney Sego, 12, and her brother, Andy, 6, make crafts
with nursing juniors Kari Keller, standing, and Elizabeth
Mueller at a Pediatric Respite Program Christmas party
held at the College in December 2011. By Christine Cox, Staff Writer, Saint Mary's College
Published in South Bend Tribune on April 8, 2012
Twelve-year-old Brittney Sego of South Bend is recovering from what was probably her 19th or 20th tracheal surgery; she's lost count. Her voice can't even reach a whisper, and talking hinders her recovery. So instead of speaking about the nursing students from Saint Mary's College who visit her home each week, Brittney neatly prints a few sentences.
"They are so fun! They're like my big sisters! I wish they could come all the time!"
Her mother, Deb Sego—who has a second medically fragile child, Andy—agrees. "We wouldn't make it as far as we do without these students. They've been aunts, sisters, best friends. They're incredible."
The nursing students visit as part of the college's Pediatric Respite Program that partners them with families with medically fragile children. Oftentimes, the student visits are the only time parents are able to take a break from caring for the children.
Jayne Kendle, associate professor of nursing, founded the program in 1997 in conjunction with her class Child Health Nursing. "The life of a medically fragile child doesn't stop at discharge from the hospital," Kendle says. "I wanted the students to understand what these families go through at home." Students make home visits for at least 16 hours during the semester.
Parents use their free time for anything from shopping to catching up with friends to going out of town. "One woman would take a long bath," Kendle says. "It was the only time she could be away from her child without worrying."
Deb Sego welcomed the students into her home five years ago to help care for Brittney and 6-year-old Andy, who suffers from cerebral palsy and mild chronic lung disease among other health complications.
Brittany's tracheal problems stem from a 2009 thyroidectomy that damaged her vocal cords and impaired her breathing. She has a tracheal tube inserted to help her breathe, but other surgeries to alleviate her problems have not been successful. She also has type 1 diabetes.
"These students touch us in so many ways. Even if I don't need to go anywhere, they'll play games with the kids," Deb Sego says. "We're still in contact with most of the students, and we've been invited to some of their weddings. It's been tremendous."
For the students, too.
"This experience was so much more than just gaining new nursing skills. I was able to experience the love and joy of a family that's going through great challenges," says senior Elizabeth Mueller, who was paired with the Segos. "When I first began the program, I was worried about the responsibility. But I became more comfortable once I got to know the children and their situation. This program has made me a better person."
The Pediatric Respite Program also offers support other than home visits. For instance, nursing students put in hours at A Rosie Place, a specialty care hospital in South Bend for medically fragile children. Kendle sits on the board of directors of the O'hana Heritage Foundation, which started the facility.
For more information on Saint Mary's College's Pediatric Respite Program, contact Jayne Kendle, associate professor of nursing, at jkendle@saintmarys.edu or (574) 284-4679. This article appeared in the April 8, 2012 issue of the South Bend Tribune as a Beyond the Campus story. The Beyond the Campus series shows examples of what local colleges and universities do to help the South Bend-area community.