Actress Sigourney Weaver's Day on Campus (various media)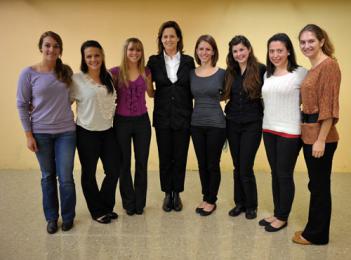 Actress Sigourney Weaver, center, poses with Saint Mary's College
students Eva Cavadini '12, Caryn Garton '14, Kara Quillard '13,
Victoria Flees '12, Joy Viceroy '13 and Kathryn Hein '13 who all
performed individual monologues for Weaver and her husband.
9/23/11-9/28/11 (various media)—The Saint Mary's College Theatre Program welcomed Academy Award nominated actress Sigourney Weaver to campus on September 26 as the 2011/2012 academic year's Margaret Hill Endowed Visiting Artist. Weaver, known for starring roles in films like Aliens, Gorillas in the Mist and Avatar conducted two master classes with Saint Mary's College theatre students during the day and held a public lecture in the evening. Her husband Jim Simpson, artistic director of New York City's The Flea Theater , accompanied her and helped conduct the master classes.

Weaver, who earned a bachelor's degree in English from Stanford University and a master's from the Yale School of Drama, acknowledged the importance education has played in her success. Her education allows her to analyze scripts for structure, character development, and other literary elements. "The part of acting that isn't luck is education. I've been fortunate enough to have an amazing education," said Weaver, adding that this has allowed her to be selective in her roles.

 
Summary of news coverage: