Social Work Research Helps Shelter (South Bend Tribune)
This article, written by a Saint Mary's College student, appeared in the South Bend Tribune on January 8, 2012.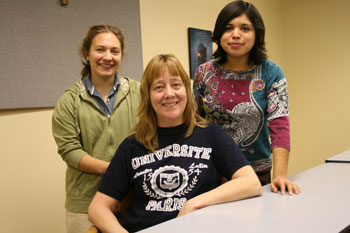 Saint Mary's College seniors and social work majors Aileen Hurd '12,
left, and Alma Bravo '12, right, pose with Hope Ministries client Trudy,
who was among the Hope residents participating in surveys conducted
by the student reams led by Hurd and Bravo. Understanding the challenges the homeless face and helping them to overcome those obstacles and become self-reliant is what Hope Ministries in South Bend does every day. As is the case with any business, getting to know the client even better can lead to improved service.
That's the idea behind research conducted in the fall by Saint Mary's College social work students. Two groups of seniors enrolled in professor Fran Kominkiewicz's Research Methods course conducted surveys at the center. One team interviewed clients about their health and lifestyle while the other group surveyed clients about their housing, education, and employment history.
After an entire semester of research and analysis, the students presented their final projects to Hope Ministries last month.
"The students rose to the occasion beautifully," Kominkiewicz said. "This project was a chance for them to look at agencies in the community like Hope Ministries and determine what Saint Mary's can do to give back."
The team that focused on health found that 80 percent of the clients interviewed smoke. Eighty-five percent of them indicated that walking is their primary form of exercise, most likely due to a lack of transportation. And although Hope Ministries has a workout facility, 65 percent of residents have never used it.
"We found that updating the workout program or implementing a yoga class would be a waste of resources," Saint Mary's College student Aileen Hurd said. "We recommended more educational resources be made available to help clients understand the importance of healthier choices."
"It might be beneficial to expand their selection of healthy eating choices," added student Sarah Shoff, noting that many of the clients who eat at the center are overweight.
The research is already yielding positive results. Within a week of learning the students' findings, Hope began offering a smoking cessation program through the St. Joseph County Minority Health Coalition. And the center is encouraging volunteers who provide meals to Hope to be even more health conscious in their menu selections.
"Research has the power to change our residents' lives," said Abby Foster, family case manager at Hope Ministries. "We can take into account the findings and use them as a vehicle to help serve the Hope community."
The second team found the biggest obstacle to securing stable housing was unemployment.
Senior Alma Bravo said she was shocked at the education level of the residents of Hope Ministries. "More than half had a high school diploma," Bravo said. "It wasn't like they hadn't had any sort of education. We concluded the state of the economy is contributing to the lack of jobs."
The group also took into account housing history.
"Some never had a stable living situation," senior Lauren Toth said. "I think Hope Ministries would do well if they put more emphasis on helping clients find employment, because without monetary gain, personal housing is difficult to achieve."
Hope may use the data in the future in grant applications.
"Our partnership with the Saint Mary's social work program benefits us greatly," said Sarah Greenawalt, director of community outreach at Hope.  "The research allows us to have a more aerial view of our ministry and programs, which helps us to identify our areas for growth."
This article was written by Madeline Miles '13, a media relations intern at the College in the fall of 2011.