Saint Mary's College Among the Top Liberal Arts Colleges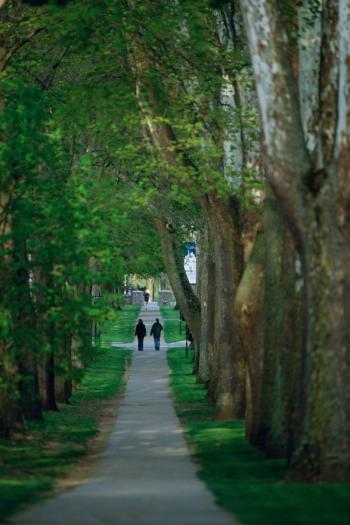 Contact:
Gwen O'Brien
Director of Media Relations
Saint Mary's College
Notre Dame, IN 46556
(574) 284-4579
September 13, 2011 (Notre Dame, Ind.)—U.S.News & World Report ranks Saint Mary's College among the "Best National Liberal Arts Colleges." Saint Mary's comes in at 90, up from 93 last year. The rankings can be found today at usnews.com/colleges or in the printed 2012 edition of the Best Colleges guidebook, available on newsstands starting September 20. The U.S.News college rankings, which group schools based on categories created by the Carnegie Foundation for the Advancement of Teaching, is a tool for students and parents considering higher education opportunities.
Saint Mary's College President Carol Ann Mooney set a goal early in her presidency, which began in June 2004, to move Saint Mary's into the national liberal arts rankings. A national standing for a fifth consecutive year indicates Saint Mary's is on course to meet a key goal in the College's Strategic Plan, which is to provide "Educational Excellence Equal to that of the Best Colleges in the Country."
"We know that national rankings are important to many high school students in their college search. I am very pleased that Saint Mary's College continues to be ranked in the top 100," said Mooney. "Students graduate from Saint Mary's with an education that challenges their minds, awakens their imaginations and instills in them the desire to leave the world a better place."
Among the many factors weighed in determining the U.S.News rankings, the key measures of quality are: graduation and retention rates, faculty resources, student selectivity, financial resources, alumni giving, and, for National Universities and National Liberal Art Colleges, "graduation rate performance". Peer assessment and high school counselor assessment are also variables.
College-bound students and their parents look to rankings and other indicators of academic quality when making their decisions about college. Last month, the Princeton Review rated Saint Mary's College among the Best Colleges in the Midwest for the ninth year in a row. U.S.News & World Report and the Princeton Review, along with other resources such as the University and College Accountability Network (UCAN), College Navigator and the National Survey of Student Engagement (NSSE), enable them to garner information about Saint Mary's and other institutions.
About Saint Mary's College: Saint Mary's College, Notre Dame, Ind., is a four-year, Catholic, women's institution offering five bachelor's degrees and more than 30 major areas of study. Saint Mary's College has six nationally accredited academic programs: social work, art, music, teacher education, chemistry and nursing. Saint Mary's College ranks among the top 100 "Best National Liberal Arts Colleges" for 2012 published by U.S.News and World Report. Founded in 1844, Saint Mary's is a pioneer in the education of women, and is sponsored by the Sisters of the Holy Cross.