SPARK Program Gears up for 3rd Class of Budding Entrepreneurs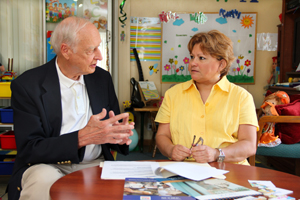 Maria Casadio, of South Bend, right, sits down with Jack
Ruhe, professor emeritus of business at Saint Mary's
College, to go over her business plan for a bilingual daycare.
Casadio participated in SPARK in 2011.Contact:
Gwen O'Brien
Director of Media Relations
Saint Mary's College
(574) 284-4579
September 19, 2012 (Notre Dame, Ind.)—The Saint Mary's College Women's Entrepreneurship Initiative (WEI) is proud to announce it will host its third session of SPARK, an eleven-week entrepreneurship training program for women. SPARK will take place from September 27-December 13 and is intended to assist under-resourced, high-potential entrepreneurs to "spark" or launch successful businesses.

Women interested in taking part in SPARK must apply in person at a screening on Monday, September 24, from 9 a.m. to 12 p.m. in Spes Unica Hall, room 213 (campus map). Fourteen entrepreneurs will be selected to join the program. They must commit to meet every Tuesday and Thursday from 9 a.m. to 1 p.m., and a fee of $150 is due on the first day of class. Classes will take place in Madeleva Hall, room 309. SPARK will not meet on Thanksgiving Day.
Modeled after a San Francisco non-profit called the Women's Initiative, SPARK's mission is "to cultivate an entrepreneurial capacity in women... to advance them beyond socio-economic boundaries and achieve self-sufficiency." This happens through education, business training, and ongoing professional mentoring. Established women business owners in the region lead the SPARK classes and, as mentors, teach best practices to the budding entrepreneurs (aka "SPARKlers").
There are 22 graduates of the two SPARK programs held so far. SPARK has generated seven local micro businesses, including a gift basket company, an import/export business, a beauty shop, a concierge service, and a real estate development enterprise. Another four businesses are expected to take off within the next six months or so.
Martha Smith is the project director for WEI and has led entrepreneurial outreach in the South Bend community, which includes the initiation of SPARK and offering assistance to Latina women business owners, among other local efforts. Before joining the College in 2010, Smith was a local entrepreneur with 24 years of experience in small business management.
"Through its comprehensive entrepreneurship training program and subsequent follow up support, the community action group behind SPARK assists low-income, high-potential women with the opportunity to create jobs for themselves and others and ultimately increase their economic self-sufficiency," said Smith.
One woman who attended the SPARK session in the spring of 2011 said in a survey, "I enjoyed the opportunity to be a part of this great program because I've learned so much about how business works and what I personally need to succeed."
Those interested in more information about being involved in SPARK as a participant, facilitator, mentor, or volunteer can email Smith at wei@saintmarys.edu or call (574) 284-5262.
About the Women's Entrepreneurship Initiative (WEI): The Department of Business Administration and Economics and the Center for Women's Intercultural Leadership at Saint Mary's College launched WEI in 2010 after the College received a $245,000 Small Business Administration grant to support women's entrepreneurship in the region. Though the grant has expired, WEI is sustained through the generosity of Jack Ruhe, professor emeritus of business, alumnae, and local banks including KeyBank, 1st Source, and PNC. WEI partners with community businesses, non-profits, and other organizations to provide financial and business education services to women entrepreneurs. WEI is pronounced "we."
About Saint Mary's College: Saint Mary's College, Notre Dame, Ind., is a four-year, Catholic, women's institution offering five bachelor's degrees and more than 30 major areas of study. Saint Mary's College has six nationally accredited academic programs: social work, art, music, teacher education, chemistry and nursing. Saint Mary's College ranks among the top 100 "Best National Liberal Arts Colleges" for 2013 published by U.S. News. Founded in 1844, Saint Mary's is a pioneer in the education of women, and is sponsored by the Sisters of the Holy Cross.