Accounting Students Place First in INCPAS Collegiate Contest, Again!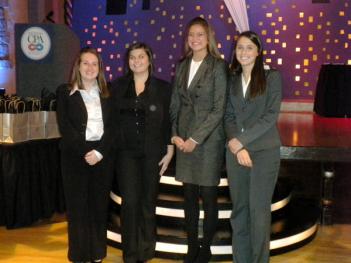 Pictured from left to right are Allison Courtney '12, Katie
Gutrich '13, Chelsea Pacconi '13, and Maggie DePaola '12.
Contact:
Gwen O'Brien 
Director of Media Relations
Saint Mary's College
(574) 284-4579
November 30, 2011 (Notre Dame, Ind.)–For the second consecutive year, Saint Mary's College was awarded first place in the annual Indiana CPA Society (INCPAS) Case Study Competition. Teams from all Indiana colleges and universities with accounting programs were invited to compete. About a dozen schools participated this year and six were chosen as finalists. Saint Mary's competed against finalist teams from Indiana University-Purdue University Indianapolis, Manchester College, Indiana Wesleyan University, Purdue University Calumet, and Valparaiso University. The four-person finalist teams made their oral presentations before four CPA judges on November 18 and the winners were announced that evening.
Mary Ann Merryman, professor and chair of the Department of Business Administration and Economics, led the Saint Mary's team to victory. The award-winning team is made up of Allison Courtney '12 of Northborough, Mass.; Maggie DePaola '12 of Hilliard, Ohio; Katie Gutrich '13, of Tinley Park, Ill.; and Chelsea Pacconi '13 of Pittsburgh, Pa. Courtney and DePaola were also on last year's winning team.
"Saint Mary's has definitely given me the confidence and drive to compete in something like this," said Courtney. "I think a large reason that we have done so well the past few years is the motivation and mentality we have maintained. We put in over 90 hours on this project in the span of a week and a half, and we all pushed each other to be the best that we can be. I think the level of communication, challenge, and motivation we have has led to the success of these past two years."
"I couldn't be prouder of the Saint Mary's team," Merryman said. "They worked extremely hard on the case and their hard work definitely paid off."
It was the 12th time the INCPAS has held the competition, with the case topic changing each year. This year's case study required the Indiana college teams to develop a knowledge management system for a fictional Indianapolis CPA firm. The teams had 10 days to complete the case paper. Finalist teams then had one week to prepare their presentations.  
"Our team submitted a paper of 50 written pages and 23 pages of appendices," said Merryman. "Just the number of pages they produced gives you an idea of the tremendous amount of work our students put into the competition."
Merryman has led the Saint Mary's teams to the "final six" for the past six years with their highest placement at third before they entered the 2010 competition. The Saint Mary's teams have benefited from strong faculty commitment to lead the team. "Students graduate, so the one constant is a faculty member with an ongoing commitment to make sure that a college or university organizes and coaches a team to compete," explained Merryman.
The INCPAS Case Study Competition was created in 2000 as a program with the dual benefit of having a positive impact on students entering the CPA profession and helping Indiana CPAs with their firm's or company's recruiting efforts.
About Saint Mary's College: Saint Mary's College, Notre Dame, Ind., is a four-year, Catholic, women's institution offering five bachelor's degrees and more than 30 major areas of study. Saint Mary's College has six nationally accredited academic programs: social work, art, music, teacher education, chemistry and nursing. Saint Mary's College ranks among the top 100 "Best National Liberal Arts Colleges" for 2012 published by U.S.News and World Report. Founded in 1844, Saint Mary's is a pioneer in the education of women, and is sponsored by the Sisters of the Holy Cross.