Philosopher Alasdair MacIntyre to Deliver McMahon Aquinas Lecture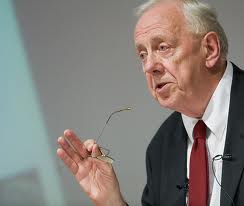 Contact:
Gwen O'Brien
Director of Media Relations
Saint Mary's College
Notre Dame, Ind.
(574) 284-4579
August 29, 2011 (Notre Dame, Ind.)—Saint Mary's College is proud to announce that renowned moral philosopher Alasdair MacIntyre, the Rev. John A. O'Brien Senior Research Professor of Philosophy Emeritus at the University of Notre Dame, will deliver the annual McMahon Aquinas Lecture. The title of his talk is "How Truth is Known though Error: Rereading Aquinas's Project at 'Summa Theologiae' Ia-IIae, qq. 1 and 2". The lecture will take place at 7 p.m. on Wednesday, September 28 in O'Laughlin Auditorium. A reception follows. The public is cordially invited to attend the lecture and reception, which are sponsored by the Edna and George McMahon Aquinas Chair in Philosophy.
MacIntyre has written and lectured widely in the history of philosophy, moral philosophy, political theory, philosophy of the social sciences and the philosophy of religion. He has taught at Oxford, Princeton, Yale, Brandeis, Vanderbilt, Duke and Boston Universities as well as at Wellesley College. He is also the author of more than 30 books, including "After Virtue: A Study in Moral Theory"; "Whose Justice? Which Rationality?"; "Three Rival Versions of Moral Enquiry: Encyclopaedia, Genealogy, and Tradition"; "Dependent Rational Animals: Why Human Beings Need the Virtues"; "Edith Stein: A Philosophical Prologue, 1913-1922"; and, most recently, "God, Philosophy, Universities: A Selective History of the Catholic Philosophical Tradition".
"Professor MacIntyre is one of the most important living philosophers and students of the Catholic intellectual tradition. Saint Mary's is honored to have him deliver this year's McMahon Aquinas Lecture," said philosophy professor Michael Waddell, Ph.D., who will be formally installed as holder of the Edna and George McMahon Aquinas Chair in Philosophy at 4 p.m. September 28. The installation is open to the public and will take place in Stapleton Lounge of Le Mans Hall. A reception will follow.
For more information on the McMahon Aquinas Lecture, call Barb Westra, staff assistant in the Department of Philosophy, at (574) 284-4534. A campus map is available online.
About Saint Mary's College: Saint Mary's College, Notre Dame, Ind., is a four-year, Catholic, women's institution offering five bachelor's degrees and more than 30 major areas of study. Saint Mary's College has six nationally accredited academic programs: social work, art, music, teacher education, chemistry and nursing. Saint Mary's College ranks among the top 100 "Best National Liberal Arts Colleges" in the U.S. News & World Report 2011 College Guide. Founded in 1844, Saint Mary's is a pioneer in the education of women, and is sponsored by the Sisters of the Holy Cross.