2013 Alumna Achievement Award Announced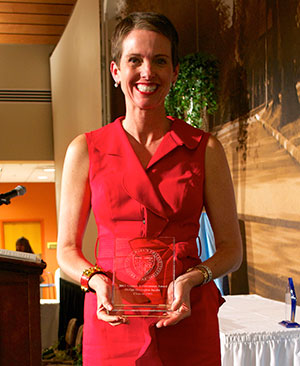 Hollye Harrington Jacobs '93, the 2013
recipient of the Alumna Achievement AwardContact:
Gwen O'Brien
Director of Media Relations
Saint Mary's College
(574) 284-4579

June 3, 2013 (Notre Dame, Ind.)—The Alumna Achievement Award, awarded annually by the Alumnae Association of Saint Mary's College, honors an alumna of the Catholic women's college who is outstanding in her personal and professional accomplishments and is a recognized leader in her field of endeavor. The honoree exemplifies the standards, ideals, and mission of the College in its commitment to the value of a Christian liberal arts education.
The 2013 recipient is Hollye Harrington Jacobs '93 of Santa Barbara, Calif. Jacobs is esteemed for her work in pediatric palliative care, as well as her efforts to educate healthcare professionals in this important field. She received the Alumna Achievement Award at the Reunion Banquet Saturday, June 1 as part of Reunion Weekend, May 30-June 2.
Jacobs graduated from Saint Mary's cum laude with bachelor's degrees in political science and history. She worked in communications and public relations at Polo Ralph Lauren in Chicago and two years into that job she completed an accelerated nursing program at Loyola University. She found her niche in pediatric hospice care and has since become an advocate in the field of end-of-life care for children.
Jacobs' education includes the University of Chicago MacLean Fellowship in 2002, serving as a faculty scholar in Harvard Medical School's Program in Palliative Care Education and Practice in 2002, and earning a master's degree in child development at the Erikson Institute in 2004 and a master's degree in social work from Loyola University in 2005. Jacobs currently serves as Project Coordinator for the Pediatric End-of-Life Nursing Education Consortium (PELNEC).
In nominating Jacobs for this award, her classmate Rebecca Votto '93 said, "Hollye's dedication to a career in palliative care and hospice embodies the mission of Saint Mary's College as she seeks not only to serve children with terminal conditions, but also their families and the professionals that care for them."
In addition, Jacobs is a respected philanthropist. She serves on the Board of Directors of The Dream Foundation, the first and largest "wish-granting" organization for adults with life-threatening illnesses. She also supports the Chicago Children's Choir, The Teddy Bear Foundation, the Breast Cancer Resource Group, and Santa Barbara Children's Museum, among other organizations.
Jacobs also remains active in the Saint Mary's community. Among her many positions in service to the College, Jacobs has served on the College's Board of Trustees, was a member of the Chicago Advisory Council, and is part of the Alumnae Resource Network.
Click for information on the other 2013 Alumnae Association Award recipients.
About Saint Mary's College: Saint Mary's College, Notre Dame, Ind., is a four-year, Catholic, residential, women's liberal arts college offering five bachelor's degrees and more than 30 major areas of study, such as business, nursing, art, chemistry, and social work. The College's single-gender environment has been proven, in study after study, to foster confidence, ethical leadership, and strong academic success. Saint Mary's College ranks among the top 100 "Best National Liberal Arts Colleges" for 2013 published by U.S. News. Founded in 1844 by the Sisters of the Holy Cross, Saint Mary's College's mission is to educate women and prepare them for postgraduate success whether it's a first job, graduate school, or postgraduate service.