Mary Acker Klingenberger '79 Receives 2014 Alumna Achievement Award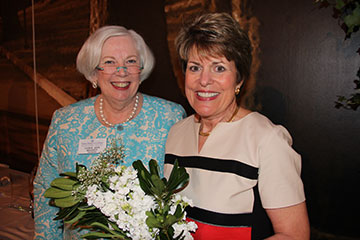 Alumna Achievement Award recipient Mary Acker Klingenberger '79,
left, poses with Saint Mary's College President Carol Ann Mooney. Contact:
Gwen O'Brien
Director of Media Relations
Saint Mary's College
(574) 284-4579

June 1, 2014 (Notre Dame, Ind.)—The Alumna Achievement Award, awarded annually by the Alumnae Association of Saint Mary's College, Notre Dame, IN honors an alumna of the Catholic women's college who is outstanding in her personal and professional accomplishments and is a recognized leader in her field of endeavor. The honoree exemplifies the standards, ideals, and mission of the College in its commitment to the value of a Christian liberal arts education.

This year's recipient is Mary Acker Klingenberger '79. Klingenberger, of Hinsdale, IL, is recognized for her fundraising innovations and her dedication to quality education for girls and young women. The award was announced Saturday, May 31, at the Reunion Banquet held on campus.
Klingenberger, who majored in humanistic studies at Saint Mary's College, earned her master's of business administration from DePaul University and spent 27 years in the banking industry, culminating in her position as regional president of Harris Bank of Hinsdale. With her board experience, she was appointed the first director of gift planning at the Hinsdale Hospital Foundation, where she was responsible for spearheading the Foundation's gift planning efforts.
In 2013 Klingenberger was appointed president of Mother McAuley Liberal Arts High School, her alma mater, bringing her unique perspective and her years of business acumen and fundraising experience. She is dedicated to providing excellent education to young women, and with several internal and external partners, ensures students receive the best chances for success. The high school is the largest all-girls high school in the country and boasts a 100 percent college acceptance rate among graduating seniors. As an alumna of two single-gender institutions, Klingenberger draws on her education experience to guide her in overseeing a rigorous academic program that challenges and prepares young women for lives of leadership and service.
In her volunteer service efforts, Klingenberger is as formidable as in her professional life. She's a past board member for Adventist Hinsdale Hospital. While on that board, she was a key leader and fundraiser for its digital mammography initiative, raising $3.2 million dollars to bring the latest technology in breast cancer detection to the hospital. She's also a past board member for Fenwick High School, where her sons attended, and Wellness House, a home offering support and resources for people living with cancer. Currently, she serves on the board of King-Bruwaert House, a retirement house. She is a member of St. Isaac Jogues parish in Hinsdale, Illinois.
Klingenberger's dedication to women and education extends to Jennifer Winnett Denniston '98, who nominated her. "Her encouragement extended past my professional endeavors as she offered words of wisdom as both a professional woman and as a mother," said Denniston. Klingenberger's dedication to seeing women succeed in professional and personal pursuits is indicative of her own professional and personal accomplishments.
About Saint Mary's College: Saint Mary's College, Notre Dame, Ind., is a four-year, Catholic, residential, women's liberal arts college offering five bachelor's degrees and more than 30 major areas of study, such as business, nursing, art, chemistry, and social work. The College's single-gender environment has been proven, in study after study, to foster confidence, ethical leadership, and strong academic success. Saint Mary's College ranks 76 among the 248 "Best National Liberal Arts Colleges" for 2014 published by U.S. News and World Report. Founded in 1844 by the Sisters of the Holy Cross, Saint Mary's College's mission is to educate women and prepare them for postgraduate success whether it's a first job, graduate school, or postgraduate service.