Saint Mary's Announces 1st Art Exhibitions of the Year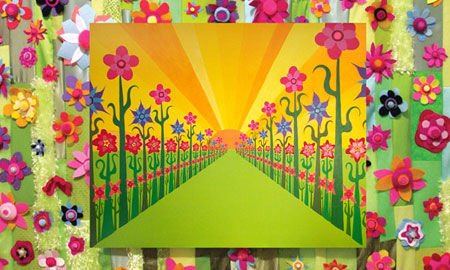 Contact:
Gwen O'Brien
Director of Media Relations
Saint Mary's College
Notre Dame, Ind.
(574) 284-4579
August 23, 2011 (Notre Dame, Ind.)—The Moreau Art Galleries and the Department of Art at Saint Mary's College announces the opening of the first art exhibitions of the academic year, running through September 16. There are two solo exhibits and a SISTAR project installation on display. The public is invited to view the exhibits Monday-Friday from 10 a.m. to 4 p.m. The public is also invited to an artist reception on Friday, September 9 from 5-7 p.m. The Moreau Art Galleries are located in the Moreau Center for the Arts on the Saint Mary's College campus. All events are free and open to the public.
 In the Hammes Gallery, Beth Reitmeyer, an artist at Zg Gallery in Chicago, exhibits her latest installation entitled Room for Inspiration (photo). "Beth's immersive and interactive environments are a collision of Technicolor materials and patterns; shiny, happy spaces that completely engulf the viewer in order to stir memories and create new ones," said Krista Hoefle, associate professor of art and gallery director of the Moreau Art Galleries.
Meanwhile, in the Little Theatre Gallery, is a solo exhibit by Jim Hopfensperger, professor of art at Western Michigan University. The exhibition features Hopfensperger's functional/sculptural works, which investigate new prospects for understanding handmade objects. "His exhibition presents a series of functional objects fabricated from exquisite materials--exotic hardwoods and gold leaf, for example--that provide a means of searching out possibilities and questions with regard to the handmade object," Hoefle said.
The Sister Rosaire Gallery features the two-woman SISTAR project by Saint Mary's College student Katie Fisher '12 and Hoefle entitled Unknown Atomic. Working as a two-woman printmaking/sculpture-fabricating duo, Fisher and Hoefle created independent bodies of work investigating historical and pop cultural instances of science gone awry. SISTAR stands for Student Independent Study and Research. SISTAR grants are awarded to students/faculty members who partner to support research and study for eight weeks during the summer. The student, usually a rising senior, pursues her research as a junior colleague with the faculty partner. The student's research may complement the faculty member's in a similar area, or the team may share a project. Alternatively, the project may be distantly related in subject matter but very closely related in method or intellectual field.
For more information, visit: www.moreaucenter.com  
About Saint Mary's College: Saint Mary's College, Notre Dame, Ind., is a four-year, Catholic, women's institution offering five bachelor's degrees and more than 30 major areas of study. Saint Mary's College has six nationally accredited academic programs: social work, art, music, teacher education, chemistry and nursing. Saint Mary's College ranks among the top 100 "Best National Liberal Arts Colleges" in the U.S. News & World Report 2011College Guide. Founded in 1844, Saint Mary's is a pioneer in the education of women, and is sponsored by the Sisters of the Holy Cross.