Art Students Create Robots with Engineering Students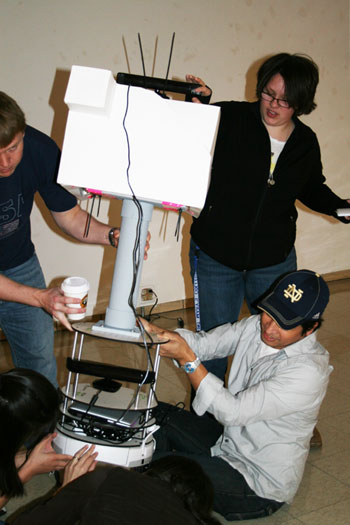 Saint Mary's art student Megan Archer '13 works
with Notre Dame students on a robotic prototype
last fall in a pilot program for the class.Contact:
Gwen O'Brien 
Director of Media Relations
Saint Mary's College
Notre Dame, IN 46556
(574) 284-4579
April 13, 2012 (Notre Dame, Ind.)—When you think of robotics, you probably think of engineering and computer science, not art. But artistic design makes a robot appeal to the senses. What drives consumers to mechanical devices is often the presentation. Consider the ease of the touch screen on an iPad or iPhone. And if an app doesn't have a visually appealing graphic, you might be less likely to download it.
"Apple wouldn't be what Apple is without a clear design aesthetic and approach. You love those things for their 'objecthood' as much as for what they can do. And the way the interface is designed, it's user friendly," notes Krista Hoefle, associate professor of art at Saint Mary's College.
This semester the nine students enrolled in Hoefle's sculpture class Beyond the Object had the opportunity to be paired with University of Notre Dame engineering and computer science students to build robotic toys (a.k.a. electronic sculptures). It is the first time students from the two campuses have come together in this way. Six teams will present their robots Saturday, April 14 at a public event celebrating National Robotics Week. It takes place from 10 a.m. to 3 p.m. in the North Dome of the Joyce Athletic and Convocation Center.
Hoefle says sitting at the table with computer science and engineering students helped the art students see their skills in a different light.
"We tell art students that they are creative producers, that they have a marketable and lucrative skill set. They can give meaning to things and take meaning out of things. And they are creative problem solvers. That is so important. Not everyone can think in that way," Hoefle said.
Art student Megan Archer, a junior from Mishawaka, has enjoyed the collaborative experience of the assignment. "As an artist, I believe that I brought not only a different mentality to the group dynamic but also a different skill set that has helped us to create a fun and energetic piece. I was open to the different ways that they suggested to alter my concepts of the idea to make it better, easier, and ultimately more fun."
Archer's team created a robot that makes art with yarn.
Hoefle says Saint Mary's art student Theresa Nucciarone, a junior from South Bend, was paired with students who had the know-how to make a butler type robot. Rather than have the robot simply fetch things for the user, Nucciarone thought it would be fun to make the interaction into a game. The butler became PacMan and the users are the ghosts.
"Theresa is conceptual in her thinking. Somehow she related this robot to video games and could see kids immersed in a sort of video game situation so maybe the robot and the kids could be in some sort of oppositional relationship," explained Hoefle.
"The robot functions as PacMan and it has a PacMan sculpture over it. Three children will wear different colored t-shirts with sensors on them and the robot senses where the kids are. They follow a maze on the floor. The code is very complex."
Local children, parents, and teachers are encouraged to attend the event.
About Saint Mary's College: Saint Mary's College, Notre Dame, Ind., is a four-year, Catholic, women's institution offering five bachelor's degrees and more than 30 major areas of study. Saint Mary's College has six nationally accredited academic programs: social work, art, music, teacher education, chemistry and nursing. Saint Mary's College ranks among the top 100 "Best National Liberal Arts Colleges" for 2012 published by U.S. News and World Report. Founded in 1844, Saint Mary's is a pioneer in the education of women, and is sponsored by the Sisters of the Holy Cross.