College Receives State Grant for Sexual Violence Prevention Education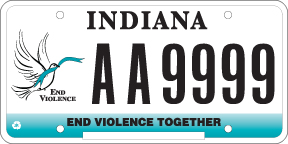 Contact:
Gwen O'Brien
Director of Media Relations
Saint Mary's College
Notre Dame, Ind.
(574) 284-4579
March 17, 2014 (Notre Dame, Ind.)—Saint Mary's College is proud to announce that its Belles Against Violence Office (BAVO) and Office of Student Involvement and Multicultural Services (SIMS) received a $10,000 grant from the End Violence Together specialty license plate, a new program established by the Indiana Coalition Against Sexual Assault (INCASA). As one of the fund's first grantees, BAVO and SIMS will use the grant to further develop efforts to educate and empower students at the women's college on sexual violence prevention.
"End Violence Together funding will allow us to implement evaluation methods to assess our greatest community needs, current programming efforts, and benchmark student experiences and attitudes with campuses across the country," Connie Adams, director of Belles Against Violence Office, said.
Adams explained that the grant will allow BAVO and SIMS to use evidence-based research to implement and improve programs. "Ultimately, the information we collect will allow Saint Mary's to develop and implement additional programming to address alcohol abuse prevention and sexual assault prevention."
BAVO and SIMS will also use funds to hire a student intern to assist with the efforts. Currently, nearly 50 student volunteers support BAVO. "These students are given the opportunity to develop valuable leadership skills while significantly contributing to the greater good of our campus community," Adams said. "We hope the new internship position offers the same opportunity."
This is the second largest grant the College has received to address sexual violence. The largest grant came from the U.S. Department of Justice's Office on Violence Against Women's Campus Program in the fall of 2009 to start BAVO, which opened in the spring of 2010.
About Saint Mary's College: Saint Mary's College, Notre Dame, Ind., is a four-year, Catholic, residential, women's liberal arts college offering five bachelor's degrees and more than 30 major areas of study, such as business, nursing, art, chemistry, and social work. The College's single-gender environment has been proven, in study after study, to foster confidence, ethical leadership, and strong academic success. Saint Mary's College ranks 76 among the 248 "Best National Liberal Arts Colleges" for 2014 published by U.S. News and World Report. Founded in 1844 by the Sisters of the Holy Cross, Saint Mary's College's mission is to educate women and prepare them for postgraduate success whether it's a first job, graduate school, or postgraduate service.