For 10th year, Saint Mary's among "Best in the Midwest"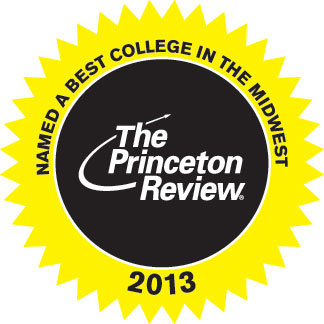 Contact:
Gwen O'Brien 
Director of Media Relations
Saint Mary's College
Notre Dame, IN 46556
(574) 284-4579
August 21, 2012 (Notre Dame, Ind.)—The Princeton Review has once again listed Saint Mary's College among the best colleges and universities in the Midwest. The education services company widely known for its test preparation programs and college and graduate school guides selected the school as one of 153 institutions listed in the "Best in the Midwest" section of its Web site feature "2013 Best Colleges: Region by Region," posted August 20. (Registration and login may be required to see the rankings.)
The "Best in the Midwest" colleges are located in twelve states: Iowa, Illinois, Indiana, Kansas, Michigan, Minnesota, Missouri, Nebraska, North Dakota, Ohio, South Dakota, and Wisconsin. The Princeton Review also designated 220 colleges in the Northeast, 121 in the West, and 135 in the Southeast as best in their locales. The 600+ colleges named among the "regional best" represents about 25 percent of the nation's 2,500 four-year colleges.
According to The Princeton Review, the organization reviews institutions in each region and then selects the colleges and universities primarily for their excellent academic programs. The Princeton Review also takes into account what students attending the schools report about their campus experiences. According to one student review posted on the website, Saint Mary's "has a strong academic approach that also values spirituality" and "professors [who] are willing to help students whenever needed, but they by no means [hold] our hands…they push their students to achieve."
"We are very pleased to once again be included among The Princeton Review's 'Best in the Midwest,'" said Saint Mary's College President Carol Ann Mooney. "Our commitment to an excellent intellectual and academic experience for our students is unwavering. Our graduates are our best recruiters. Their accomplishments speak volumes about the quality of the educational experience they received here."
Saint Mary's College has held the "Best in the Midwest" designation every year since The Princeton Review began the "Best Colleges: Region by Region" categorizations ten years ago. The Princeton Review lists, but does not rank, the colleges in its "2013 Best Colleges Region by Region" Web site section.
About Saint Mary's College: Saint Mary's College, Notre Dame, Ind., is a four-year, Catholic, women's institution offering five bachelor's degrees and more than 30 major areas of study. Saint Mary's College has six nationally accredited academic programs: social work, art, music, teacher education, chemistry and nursing. Saint Mary's College ranks among the top 100 "Best National Liberal Arts Colleges" for 2012 published by U.S.News and World Report. Founded in 1844, Saint Mary's is a pioneer in the education of women, and is sponsored by the Sisters of the Holy Cross.