"Bloom" Seminar Meant to Grow Middle School Girls' Confidence
Contact:
Gwen O'Brien
Director of Media Relations
Saint Mary's College
(574) 284-4579
March 31, 2014 (Notre Dame, Ind.)—On the heels of the release of the first Status of Girls in Indiana report, issued by Saint Mary's College in the fall, is news of a summer seminar, launched by an alumna, called Bloom for Girls—a program aimed at boosting girls' self-confidence. The Status of Girls report—a comprehensive study by faculty and students on the health and well-being of Indiana girls ages 10-19—found many girls suffer from low self-esteem in middle and high school. Perhaps a sign of this waning self-confidence is standardized test scores in math and science go down for girls from middle school to high school.
Bloom for Girls, intended for middle school girls and their moms or guardians, will be held from 10 a.m. to 2 p.m. on Sunday, July 13. The cost is $45 a person and lunch is included. Registration is required by June 1 and will be capped at 100 people.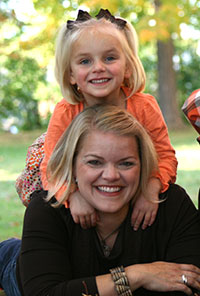 Pictured are Molly Schleeter Bell '97 and
her six-year-old daughter, Julia. Molly
will host a one-day seminar at the
college titled "Bloom for Girls." As a
mother of a girl, Molly is passionate
about promoting girls' self-esteem.Bloom is the brainchild of Molly Schleeter Bell '97, a former advertising executive drawing from her professional marketing background marketing to mothers and girls and her experience as a mom. "After having my daughter in 2007, I become acutely aware of the media images and stereotyped toys surrounding her. Our fast-paced lives don't always allow time to talk about the messages inundating our daughters," she noted. 
"Bloom for Girls provides a forum to celebrate God's gift of our womanhood. The workshops will engage moms and daughters in taking a closer look at who they are and what strengths they have to offer to the world around them," Bell added.
One workshop will focus on friendship, exploring the differences between friends and bullies and how to define personal values before becoming a friend. Another workshop, called, Love Your Body, will discuss health and personal definitions of beauty versus media images of women.
Saint Mary's College Director of Special Events Richard Baxter says Bell approached him with the idea for Bloom and he said the timing seemed just right. "When Molly came to me with her concept for the seminar, it was just about the time that faculty and students released the Status of Girls in Indiana report. We have been considering the creation of similar summer programming."
As a women's school founded by the Sisters of the Holy Cross 170 years ago, educating young women to be confident leaders who make a difference in the world is ingrained in the culture. It's not unusual for the College to reach out to the middle school age group. Besides the fine arts and sports camps it holds every summer, in the spring there is Hypatia Day, a day of fun with math and science that encourages girls to stick with these tough academic subjects.
For more information on Bloom for Girls, go to:

Saint Mary's College website
Pinterest

About Saint Mary's College: Saint Mary's College, Notre Dame, Ind., is a four-year, Catholic, residential, women's liberal arts college offering five bachelor's degrees and more than 30 major areas of study, such as business, nursing, art, chemistry, and social work. The College's single-gender environment has been proven, in study after study, to foster confidence, ethical leadership, and strong academic success. Saint Mary's College ranks 76 among the 248 "Best National Liberal Arts Colleges" for 2014 published by U.S. News and World Report. Founded in 1844 by the Sisters of the Holy Cross, Saint Mary's College's mission is to educate women and prepare them for postgraduate success whether it's a first job, graduate school, or postgraduate service.