" A Bluegrass Mass" Offers Unique Experience of Bluegrass and Choral Music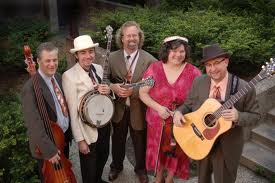 Pictured: Monroe CrossingContact:
Gwen O'Brien
Director of Media Relations
Saint Mary's College
(574) 284-4579
February 16, 2012 (Notre Dame, Ind.)–The South Bend Chamber Singers, the Shaheen/Duggan Performing Arts Series, and the Office of Special Events at Saint Mary's College are proud to bring A Bluegrass Mass and More to the stage at O'Laughlin Auditorium at 7:30 p,m. on Sunday, March 4 (campus map). Monroe Crossing, a bluegrass band from Minnesota, will join the South Bend Chamber Singers in the performance, which brings American composer Carol Barnett's The World Beloved: A Bluegrass Mass to South Bend for the first time. Monroe Crossing will also perform with the South Bend Chamber Children's Choir.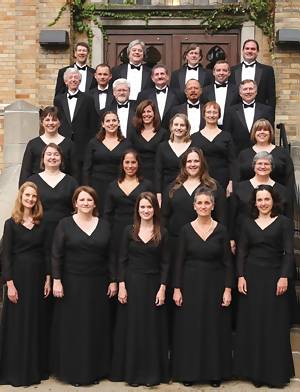 Pictured: South Bend Chamber SingersA Bluegrass Mass combines the text of a traditional Catholic Mass, contemporary choral music, poetry, and bluegrass instruments into a unique musical experience. "To bring the solemnity of the classical choir-based Mass together with the down home sparkle of bluegrass — now there's an assignment for a composer," Barnett said.
Saint Mary's College music professor Nancy Menk, director of the South Bend Chamber Singers, has collaborated with Barnett in the past and A Bluegrass Mass appealed to her.
"A Bluegrass Mass is an outstanding musical piece. It is tough and the rhythm is complicated," said Menk. "Monroe Crossing played the premiere of this unique Mass; it was written for them. The group knows the piece better than anyone. It was in our best interest to bring them here."
Half of A Bluegrass Mass and More is the Mass and the other half will be traditional bluegrass music played by Monroe Crossing. While in South Bend, Monroe Crossing will host music workshops for students of Saint Mary's College and Stanley Clark School.
Monroe Crossing is known for its mix of classic bluegrass, bluegrass gospel, and heartfelt personal pieces. Critics rave about the group's airtight harmonies, razor sharp arrangements, and on-stage presence. The South Bend Chamber Singers have performed many Masses in the past, but none with bluegrass flair.
"My highest hope is that listeners coming from one tradition — classical or bluegrass — and perhaps dubious about the other might discover something new and wonderful in the combination, as I have," said Barnett.
After the performance at Saint Mary's, the performers will bring A Bluegrass Mass to Fort Wayne, Indiana to participate in the American Choral Directors Association Central Division Conference on March 7.
Tickets for the Saint Mary's performance can be purchased at MoreauCenter.com or by calling the Box Office at (574) 284-4626.
Adults: $16
Senior Citizens: $13
SMC/ND/HCC Faculty and Staff: $11
SMC/ND/HCC Students: $6
About Saint Mary's College: Saint Mary's College, Notre Dame, Ind., is a four-year, Catholic, women's institution offering five bachelor's degrees and more than 30 major areas of study. Saint Mary's College has six nationally accredited academic programs: social work, art, music, teacher education, chemistry and nursing. Saint Mary's College ranks among the top 100 "Best National Liberal Arts Colleges" for 2012 published by U.S.News and World Report. Founded in 1844, Saint Mary's is a pioneer in the education of women, and is sponsored by the Sisters of the Holy Cross.