Saint Mary's Meets $80 Million Campaign Goal Early; New Goal Set at $90 Million

Contact:
Gwen O'Brien
Director of Media Relations
Saint Mary's College
(574) 284-4579
May 19, 2014 (Notre Dame, Ind.)— Saint Mary's College is pleased to announce that it has surpassed its $80 million goal for the Faith Always, Action Now campaign — several months ahead of schedule. With a portion of the campaign components not yet fully funded, the College's Board of Trustees recently approved raising the goal to $90 million. Faith Always, Action Now remains the largest comprehensive fundraising campaign in the College's 170-year history.
"Meeting and exceeding our original campaign goal several months early is a sure sign of the enthusiastic commitment and loyalty of our alumnae and friends," said Saint Mary's College President Carol Ann Mooney.  "I am confident that our new goal of $90 million will also be attained allowing us to complete designated campaign projects.  At the conclusion of the Faith Always, Action Now campaign, Saint Mary's will be in a stronger position to fulfill the dreams of our founders, the Sisters of the Holy Cross."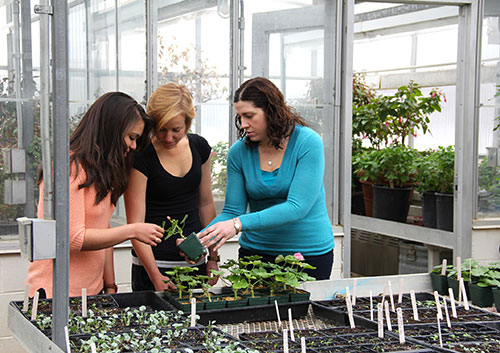 Cassie Majetic, assistant professor of biology, right, is pictured
in the current greenhouse with her biology students Maria Jose
Hernandez '14 and Carrie Dubeau '16. A new greenhouse (and
headhouse) will be built this summer thanks to the campaign.The Faith Always, Action Now campaign was approved by the Board of Trustees in June 2008 to grow the Saint Mary's endowment for scholarships, professorships, and academic programs, renovate selected campus facilities, and increase unrestricted gifts to the College's Annual Fund. Publicly launched in February 2013, the campaign is scheduled to conclude in December.
Significant milestones of the Faith Always, Action Now campaign include:
Gifts and pledges for endowed scholarships exceeded the $20 million goal by more than $2 million. With the campaign commencing during uncertain economic times, the opportunity to provide scholarships for prospective students resonated with donors.
A $6.2 million bequest from Marjorie A. Neuhoff  '61 funded an endowed chair in nursing, held by Linda Paskiewicz, director of the Department of Nursing, endowed scholarships, and the endowed Summer Science Research Community, the first of which took place last summer.
A combined gift of $10 million from Clayton and Mary Ann Mathile and their daughter, Jennifer Mathile Prikkel '95, will fund the renovation of Science Hall.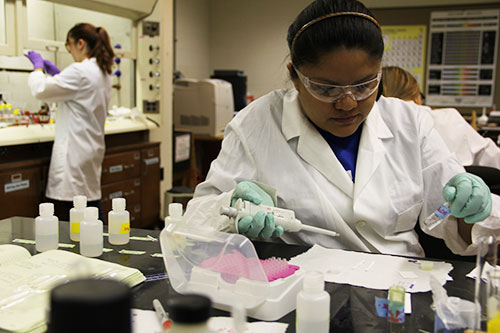 Dara Marquez '15, a Dual Degree in Engineering student, was
one of 10 science students to work with two professors in the
first Neuhoff Summer Science Research Community in 2013.
They worked on the Paper Analytical Devices (PADs) project."The biology and chemistry/physics faculty are extremely grateful for the gifts given during the capital campaign for renovations of Science Hall," expressed Nancy Nekvasil, chair of the Department of Biology. The first project will be the construction of a new greenhouse, which will begin this summer.
"Students and faculty will benefit from a new greenhouse, more and better classroom spaces, dedicated and up-to-date teaching labs, and collaborative research areas. We are hopeful that these new, more inviting spaces will help us attract and retain scientifically-minded women for the robust education in STEM disciplines offered here at Saint Mary's College," she said.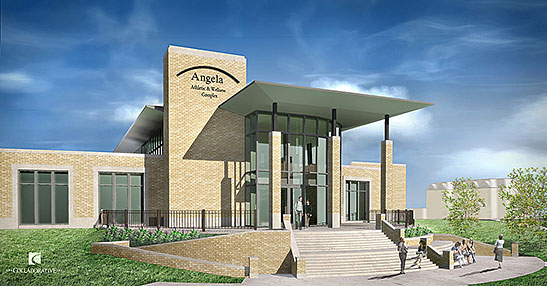 Architectural rendering of the Angela Athletic & Wellness Complex.Saint Mary's alumna, Dr. Susan Fitzgerald Rice '61 and her husband, Dr. Don Rice ND '61, recently announced a challenge grant for the renovation and expansion of the Angela Athletic & Wellness Complex – one of the campaign components. The Rices will match $1 for every $2 pledged up to $1million, thus yielding $3 million for the project. Susan is a tri-chair of the Faith Always, Action Now campaign and a former member of the Board of Trustees.
"A focus on the 'whole woman' has always been foremost at Saint Mary's," she said. "Women today embrace an even more active and healthy lifestyle. The current facility, constructed in 1977, does not meet the needs of today's students. The College's plan to renovate the Angela Athletic & Wellness Complex will enhance the experience of every Saint Mary's student."
For more information on the Faith Always, Action Now campaign, contact Vice President for College Relations Shari Rodriguez at (574) 284-4581 or srodriguez@saintmarys.edu.
About Saint Mary's College: Saint Mary's College, Notre Dame, Ind., is a four-year, Catholic, residential, women's liberal arts college offering five bachelor's degrees and more than 30 major areas of study, such as business, nursing, art, chemistry, and social work. The College's single-gender environment has been proven, in study after study, to foster confidence, ethical leadership, and strong academic success. Saint Mary's College ranks 76 among the 248 "Best National Liberal Arts Colleges" for 2014 published by U.S. News and World Report. Founded in 1844 by the Sisters of the Holy Cross, Saint Mary's College's mission is to educate women and prepare them for postgraduate success whether it's a first job, graduate school, or postgraduate service.