Vatican II Lecture Series by Center for Spirituality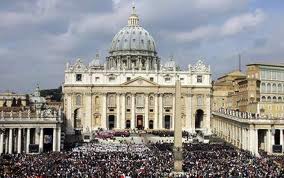 St. Peter's Square, Vatican CityContact:
Gwen O'Brien 
Director of Media Relations
Saint Mary's College
Notre Dame, IN 46556
(574) 284-4579
August 24, 2012 (Notre Dame, Ind.) – The Center for Spirituality (CFS) at Saint Mary's College proudly announces that the Fall 2012 Fall Lecture Series will commemorate the 50th anniversary of the opening of the Second Vatican Council (also known as Vatican II). The series, titled "Roots and Wings: The Legacy of the Second Vatican Council," will offer insights into a very significant period in the Catholic Church's history.
The Second Vatican Council opened on October 11, 1962 under Pope John XXII and closed under Pope Paul VI on December 8, 1965. As Pope John famously stated about the Council, "I want to throw open the windows of the Church...so that we can see out and the people can see in."
There will be three lectures, which are all free and open to the public.
"The Legacy of Vatican II: Historical Highlights and Reasons for Hope"
John L. Allen, Jr.
Senior Correspondent, National Catholic Reporter
Thursday, September 27, 7:30 p.m., Carroll Auditorium, Madeleva Hall
"Teaching Vatican II: How Change Reached the Woman in the Pew"
Mary J. Henold
Associate Professor, History, Roanoke College
Tuesday, October 2, 7:30 p.m. Stapleton Lounge, Le Mans Hall
"Roots and Wings: How Vatican II Changed My Spirituality"
Bishop Remi J. De Roo, retired, Diocese of Victoria
Victoria, British Columbia, Canada
Council Father of the Second Vatican Council
Monday, October 22, 7:30 p.m., Carroll Auditorium, Madeleva Hall
The purpose of the endowed lecture series is to challenge audience members to include their faith in all aspects of life. CFS invites scholars from here and abroad to engage the community and the public in discussion of critical issues related to spirituality. The center was inaugurated in 1984 as a place where human reason and spirituality could come together. Click for more information on the CFS lectures or (574) 284-4636.

About Saint Mary's College: Saint Mary's College, Notre Dame, Ind., is a four-year, Catholic, women's institution offering five bachelor's degrees and more than 30 major areas of study. Saint Mary's College has six nationally accredited academic programs: social work, art, music, teacher education, chemistry and nursing. Saint Mary's College ranks among the top 100 "Best National Liberal Arts Colleges" for 2012 published by U.S.News and World Report. Founded in 1844, Saint Mary's is a pioneer in the education of women, and is sponsored by the Sisters of the Holy Cross.