Play about Sister Madeleva Complements Center for Spirituality Spring Lecture Series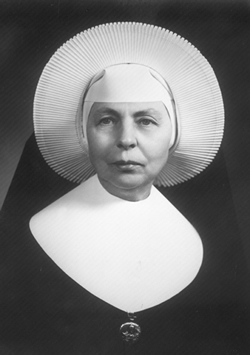 Sister M. Madeleva WolffContact:
Gwen O'Brien
Director of Media Relations
Saint Mary's College
Notre Dame, Ind. 46556
(574) 284-4579
February 17, 2014 (Notre Dame, Ind.)—The Center for Spirituality (CFS) at Saint Mary's College is proud to announce its 2014 Spring Lecture Series, The Life and Leadership of Catholic Women Religious.
The annual series, which consistently features leading religious scholars from across the country, is complemented this year by a play commemorating the life of former Saint Mary's College's president, Sister M. Madeleva Wolff, CSC. Sister Madeleva was a visionary, an educator, a medieval scholar, a poet, and a woman of deep spiritual conviction. In her 27 years as president (1934-1961), she put those gifts to good use leading Saint Mary's to national prominence as a premier Catholic liberal arts college. 2014 marks the 50th anniversary of her death.
Sister Kathleen Dolphin, PBVM, director emerita of CFS, felt the 50th anniversary was an opportunity to recall Sister Madeleva's impact on the College while noting current contributions to society by contemporary women religious. Elizabeth Groppe, who began as director of CFS this academic year, carried forward plans for the series and solicited the help of two faculty members in the creation of a play celebrating the life of Sister Madeleva.
In the fall, students in English professor Laura Haigwood's Writing Proficiency Course, Saint Mary's Women, as well as those in lecturer Susan Baxter's Playwriting I course, wrote essays and dramatic monologues about Sister Madeleva. Baxter then created a 90-minute play which uses the student works as "building blocks," also drawing heavily from memories submitted by alumnae, Sister Madeleva's own words, and research by Gail Porter Mandell, Sister Madeleva biographer and professor emerita of humanistic studies. Also, student creations and alumnae submissions have been gathered into a commemorative booklet, which will be available this spring.

Groppe is excited about the play project and what the students have learned and achieved.
"I am so grateful to Laura Haigwood and Susan Baxter for their tremendous work on this project. Susan in particular has spent many long hours on the play composition and production. Gail Porter Mandell writes in her biography Madeleva: One Woman's Life that Sister Madeleva would never have developed her many gifts without the example of the female role models she found in the convent, the literary world, and the Catholic tradition. The play Madeleva: A Play in Several Voices will bring Sister Madeleva to life for a new generation of young women, for whom she is a model of a woman of prayer who surmounted many challenges to become a distinguished scholar, poet, educator, and leader in both Catholic higher education and the life of religious communities of women."
Here is a list of the upcoming events associated with the lecture series, which are free and open to the public:
Impelled by the Love of God: Contemplative Prayer as the Heart of the Life and Leadership of Women Religious
Thursday, March 6, 7:30 p.m., Vander Vennet Theatre, Student Center
Janet K. Ruffing, RSM
Professor, Practice of Spirituality and Ministerial Leadership
Yale Divinity School
Madeleva: A Play in Several Voices
Thursday, March 20, 7 p.m., O'Laughlin Auditorium
A new play by lecturer Susan Baxter and Saint Mary's Fall 2014 Playwriting Class
Please contact the Moreau Center Box Office at MoreauCenter.com or (574) 284-4626 to reserve tickets. Tickets are free to Saint Mary's/Notre Dame/Holy Cross students, faculty, and staff as well as Sisters of the Holy Cross. Tickets are also free to theatre students, faculty, and staff from IU South Bend and Bethel College. Otherwise, tickets are $10 for adults and $5 for senior citizens.
****CANCELED***From Darkness to Hope: My Commitment to a World Free of Torture
Thursday, March 27, 7:30 p.m., Vander Vennet Theatre, Student Center
Dianna Ortiz, OSU
Associate Director, Education for Justice Project
Center for Concern, Washington, DC
THIS LECTURE IS CANCELED. IN ITS PLACE, CFS WILL SHOW A RECORDED LECTURE BY ORTIZ GIVEN AT THE EUCHARISTIC CONGRESS IN NEW ZEALAND IN 2007. SAME TIME AND PLACE.
The Contemplative Call to Do Justice
Tuesday, April 8, 7:30 p.m., Carroll Auditorium, Madeleva Hall
Simone Campbell, SSS
Executive Director
NETWORK, Washington, DC
Established in 1984, the purpose of the Center for Spirituality is to help build a theologically well-grounded spirituality among members of the College community. This includes alumnae and friends of the College, both local and national. CFS emphasizes the multifaceted nature of spirituality, including the social dimensions of spirituality.
World-renowned scholars come to Saint Mary's to share their wisdom on contemporary religious issues and to address broader issues of how faith and reason interact. The Spring Lecture Series is sponsored by the Saint Mary's College Annual Endowed Lecture Series Fund.
About Saint Mary's College: Saint Mary's College, Notre Dame, Ind., is a four-year, Catholic, residential, women's liberal arts college offering five bachelor's degrees and more than 30 major areas of study, such as business, nursing, art, chemistry, and social work. The College's single-gender environment has been proven, in study after study, to foster confidence, ethical leadership, and strong academic success. Saint Mary's College ranks 76 among the top 100 "Best National Liberal Arts Colleges" for 2014 published by U.S. News. Founded in 1844 by the Sisters of the Holy Cross, Saint Mary's College's mission is to educate women and prepare them for postgraduate success whether it's a first job, graduate school, or postgraduate service.