Christmas at Loretto to Ring in the Holidays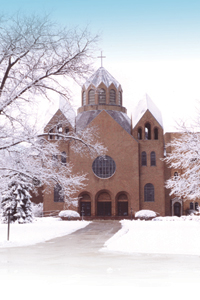 Church of Our Lady of Loretto at
Saint Mary'sContact:
Gwen O'Brien
Director of Media Relations
Saint Mary's College
Notre Dame, Ind.
(574) 284-4579
November 20, 2013 (Notre Dame, Ind.)—The South Bend Chamber Singers, an ensemble-in-residence at Saint Mary's College, is proud to present Christmas at Loretto as part of its 25th concert season. The annual event will take place at the Church of Our Lady of Loretto on the Saint Mary's campus on Sunday, December 22, at 7:30 p.m. Click for a campus map. 
The South Bend Chamber Singers ensemble is made up of approximately 30 members from throughout north central Indiana and southwestern Michigan. The Christmas at Loretto program includes beautiful music for the Christmas season, nearly all of which is by living composers. Nancy Menk, music professor and Mary Lou and Judd Leighton Chair in Music at Saint Mary's College, serves as conductor and music director of the South Bend Chamber Singers. 
Ticket information can be found at moreaucenter.com. Tickets may be purchased in advance on the website or by calling (574) 284-4626. Tickets will be available at the door as long as the event hasn't sold out. Purchasing tickets ahead of time is encouraged. This is a popular holiday event.
About Saint Mary's College: Saint Mary's College, Notre Dame, Ind., is a four-year, Catholic residential, women's liberal arts college offering five bachelor's degrees and more than 30 major areas of study, such as business, nursing, art, chemistry, and social work. The College's single-gender environment has been proven, in study after study, to foster confidence, ethical leadership, and strong academic success. Saint Mary's College ranks 76 among the 248 "Best National Liberal Arts Colleges" for 2014 published by U.S. News and World Report. Founded in 1844 by the Sisters of the Holy Cross, Saint Mary's College's mission is to educate women and prepare them for postgraduate success whether it's a first job, graduate school, or postgraduate service.