Saint Mary's Class of 2015 Prepares to "Move In"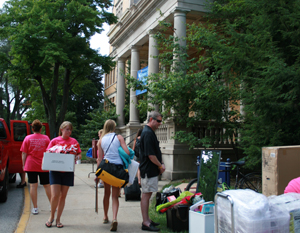 Contact:
Gwen O'Brien
Director of Media Relations
Saint Mary's College
Notre Dame, Ind.
(574) 284-4579
August 17, 2011 (Notre Dame, Ind.)—Shouts of "Welcome home!" will be heard tomorrow on the Saint Mary's College campus as students, faculty, and staff greet the Class of 2015. It's Move-In Day, the day that first-year students move into their residence halls, saying good-bye to family and hello to college life. The new academic year will kick off on Monday with the classes and Wednesday with the traditional Opening Mass. Until then, students will be busy getting to know their roommates and accomplishing that all-important feat of lofting the bed. 
The Class of 2015, made up of 396 young women, is already off to a great start academically speaking. In high school, 13 of the first-year students were named high school valedictorian. Thirty-two percent of the class was ranked in the top 10% of their high school class and 59% was among the top 20% of their class. Nearly 33% scored 1800 and above on the SAT. Nearly 7% of the incoming class had an ACT score range between 31-36.
The class represents 34 states, one territory (Puerto Rico) and six countries (China, Singapore, Jordan, Rwanda, Mexico and Canada). The states from which most students come from are Indiana (94), Illinois (79), Michigan (63) and Ohio (28). Some first-year students will be several states from home. There are three from Hawaii, 16 students from California, nine from Texas and five from Florida. Fourteen percent of the class self-identified as being from traditionally underrepresented populations, one of the highest figures in Saint Mary's history.
About Saint Mary's College: Saint Mary's College, Notre Dame, Ind., is a four-year, Catholic, women's institution offering five bachelor's degrees and more than 30 major areas of study. Saint Mary's College has six nationally accredited academic programs: social work, art, music, teacher education, chemistry and nursing. Saint Mary's College ranks among the top 100 "Best National Liberal Arts Colleges" in the U.S. News & World Report 2011 College Guide. Founded in 1844, Saint Mary's is a pioneer in the education of women, and is sponsored by the Sisters of the Holy Cross.