Class of 2017 is Largest and Most Diverse on Campus
Class is the First Offered the "Four Year Graduation Promise"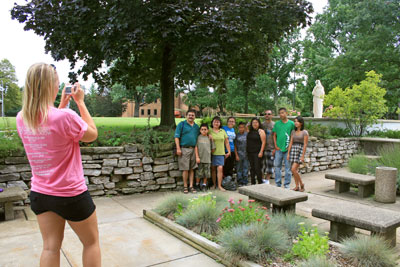 A College staff member snaps a photo of a family moving a student
into McCandless Hall.Contact:
Gwen O'Brien
Director of Media Relations
Saint Mary's College
(574) 284-4579 (desk)

August 21, 2013 (Notre Dame, Ind.)—The Class of 2017 at Saint Mary's College makes a strong statement even before they arrive tomorrow morning. The first-year class will be the largest class on campus, with 441 women. It will also be the most diverse class in the history of Saint Mary's College, with 23 percent (100 students) coming from historically underrepresented groups. The class represents 29 states and four countries, in addition to the U.S, including China, Nigeria, Turkmenistan, and Vietnam.
Members of the Class of 2017 are leaders in academics, service, extracurricular activities, athletics, and life. Here are some of the fun facts about the class:
One student was class president two years in a row
One completed National Guard training duty
One founded the "Birthday Project," a program that provides underprivileged kids with birthday presents
One was a member of the Illinois 2012 4A State Champion Softball Team
One organized her high school's Dance Marathon to benefit Riley Hospital for Children in Indianapolis
One served as editor of her village's newspaper
One student's grandmother graduated from Saint Mary's in 1917.
"There is no one definition of a Saint Mary's woman," said Kristin McAndrew, director of admission. "Some of these students moving in tomorrow are athletes and some are musicians. Some are here to become teachers and others hope to start their own businesses. But having read their applications, I can tell you that they share a common passion for community service and a love of learning."
Saint Mary's first-year class is also the first to be offered the "Four-Year Graduation Promise." Students who follow the promise's guidelines are guaranteed to graduate in four years or the College will pay for any additional courses a student needs to earn her degree. No other college or university in the area offers such a promise.
"Our students have always worked closely with their advisors and professors to stay on track and achieve their goals. We offer the courses they need, when they need them, led by exceptional faculty who are dedicated to teaching," said Saint Mary's College President Carol Ann Mooney.
As a result, in the past 10 years, 93 percent of Saint Mary's graduates have earned a degree in four years. Compare this to the percentage of graduates that complete a degree in four years at other non-profit privates (78 percent) and public institutions (52 percent)*.
The Four Year Graduation Promise is not the only promise students will hear about during their time at Saint Mary's. They'll learn about the College's 169-year heritage and a promise Saint Mary's President Sister M. Madeleva Wolff, CSC made to students more than 50 years ago:  "We promise you discovery, the discovery of yourselves, the discovery of the universe and your place in it." Mooney noted that's a promise that Saint Mary's continues to deliver on. 
*These figures are based on the percentage of total graduates in eight years who graduate in four-years or less.  Data comes from the National Center for Educational Statistics IPEDS Data Center using the 2003 entering cohort data graduating in eight years.
About Saint Mary's College: Saint Mary's College, Notre Dame, Ind., is a four-year, Catholic, residential, women's liberal arts college offering five bachelor's degrees and more than 30 major areas of study, such as business, nursing, art, chemistry, and social work. The College's single-gender environment has been proven, in study after study, to foster confidence, ethical leadership, and strong academic success. Saint Mary's College ranks among the top 100 "Best National Liberal Arts Colleges" for 2013 published by U.S. News. Founded in 1844 by the Sisters of the Holy Cross, Saint Mary's College's mission is to educate women and prepare them for postgraduate success whether it's a first job, graduate school, or postgraduate service.