Dynamic Class of 2018 Moves in Thurs., 8/21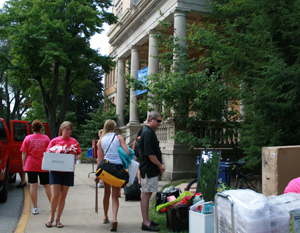 Saint Mary's College students move into the
iconic Holy Cross Hall.Media contact:
Gwen O'Brien
Director of Media Relations
Saint Mary's College
(574) 284-4579 (desk)
August 20, 2014 (Notre Dame, Ind.) — Thursday, August 21 is Move In Day at Saint Mary's College and by 8:30 a.m., staff will be waiting for the Class of 2018 to pull on to The Avenue. Most will be headed to McCandless Hall, but others will settle into rooms in Le Mans, Holy Cross, and Regina Halls. (Click for a campus map.) Move-In Day lasts until approximately 4 p.m.
The Class of 2018 at Saint Mary's College boasts 381 young women. The class is diverse, with 18 percent from historically underrepresented groups. The class represents 30 states and four countries, including China, Colombia, Chile and Ukraine. Two students have dual citizenships (U.S. and France or El Salvador).
Members of the Class of 2018 comes to campus as leaders who are globally, service, faith, and career focused. Here are some factoids about the first-year class:
One student started a clothing drive for Youth for Christ
One went on a mission trip to Joplin, MO to help rebuild after devastating storms
One collected 500-1,000 cans of food annually for a school food drive
One, while on a teen pilgrimage to Lourdes, France, prepared meals for hungry children
Two volunteered at orphanages overseas (one in China and one in Africa)
One student sang at the Summer Olympics in London and for the Pope in Rome
One was on an engineering team that won the Illinois State Title in 2013
One interned at Rubbermaid in product testing
"There is no one definition of a Saint Mary's woman," said Mona Bowe, vice president for enrollment management. "Some of these students moving in are athletes and some are musicians. Some are here to become teachers and others hope to start their own businesses. But having read their applications, I can tell you that they share a common passion for community service and a love of learning."
About Saint Mary's College: Saint Mary's College, Notre Dame, Ind., is a four-year, Catholic, residential, women's liberal arts college offering five bachelor's degrees and more than 30 major areas of study, such as business, nursing, art, chemistry, and social work. The College's single-gender environment has been proven, in study after study, to foster confidence, ethical leadership, and strong academic success. Saint Mary's College ranks 76 among the 248 "Best National Liberal Arts Colleges" for 2014 published by U.S. News and World Report. Founded in 1844 by the Sisters of the Holy Cross, Saint Mary's College's mission is to educate women and prepare them for postgraduate success whether it's a first job, graduate school, or postgraduate service.