College Announces Co-Valedictorians for Class of 2012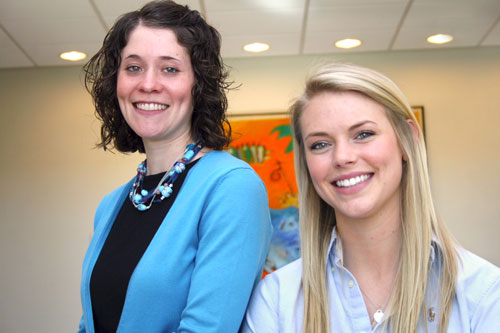 Co-valedictorians Annie Bulger '12, left, and Krystal Holtcamp '12Contact:
Gwen O'Brien 
Director of Media Relations
Saint Mary's College
Notre Dame, IN 46556
(574) 284-4579
March 5, 2012 (Notre Dame, Ind.)—Saint Mary's College is proud to announce Annie Bulger '12, a mathematics major, and Krystal Holtcamp '12, a biology major with a concentration in cellular/molecular biology, are the co-valedictorians for the Class of 2012. Both students earned perfect 4.0 grade point averages. It is not every year that two students are named valedictorians. In recent history, Saint Mary's College honored co-valedictorians was in 2010 and 2007.
"I feel very honored to represent the Saint Mary's Class of 2012, but also recognize that my academic achievement cannot fully capture the achievements of so many women in my class in faith, community service, student involvement, and athletics. I can only hope that I am able to embody not only the mind of a Saint Mary's woman on graduation day, but also the heart, body, spirit, and soul of the awesome Class of 2012," Holtcamp said.
Holtcamp hails from Mentor, Ohio and plans to become a physician assistant. She will begin graduate school at the University of Toledo in the fall. She has led a very active college life, participating in intramural sports, the Future Women Doctors Club, the Biology Club, and volunteer work. She even spent a summer as a student researcher on Little Corn Island in Nicaragua with the Department of Biology. "The Saint Mary's biology department offers this research experience to four rising seniors during the summer. I performed research on water quality and sustainability by examining the effectiveness of water filters in bacterial removal over time. This experience is also one that I will cherish over my life."
Bulger's hometown is Minneapolis, although she currently resides in South Bend. She completed her studies in December and works as a programmer for One:Ten Communications, a local website development company. As a student, her time outside the classroom was spent as a member of Saint Mary's chapter of Pi Mu Epsilon, the National Mathematics Honorary Society, serving as treasurer during the fall of 2011. She also participated in Campus Fellowship of the Holy Spirit, a student club at the University of Notre Dame, which supports Christian life among students of various denominations.
Both students say Saint Mary's prepared them for their careers and life.
"I chose Saint Mary's because of its intimate academic atmosphere and vibrant student body and I am pleased to say my expectations of Saint Mary's have all been met," Holtcamp said. "In my time here, I have been blessed with so many experiences that I will remember for the rest of my life. Each of these experiences come from different parts of my Saint Mary's education including the encouraging professors that have helped me academically, the ministries that have expanded my faith, the powerful, influential body that Saint Mary's women represent, and the friends and family that have been with me through everything. I will miss a part of each of these, because not one of these alone can represent all that is Saint Mary's College"
"I am very grateful for my Saint Mary's education," said Bulger. "The Catholic foundation of the school created an environment where not only my intellect but also my character could be formed. The faculty members encourage personal interaction, and the small class sizes help foster camaraderie among the students. The liberal arts requirements of Saint Mary's allowed me to explore and develop many interests and equipped me to be able to do many things."
The Class of 2012 will graduate at noon on Saturday, May 19 on Le Mans Green. The class is made up of approximately 420 students from 37 states and three countries besides the U.S. (China, Vietnam, and Myanmar).
About Saint Mary's College: Saint Mary's College, Notre Dame, Ind., is a four-year, Catholic, women's institution offering five bachelor's degrees and more than 30 major areas of study. Saint Mary's College has six nationally accredited academic programs: social work, art, music, teacher education, chemistry and nursing. Saint Mary's College ranks among the top 100 "Best National Liberal Arts Colleges" for 2012 published by U.S.News and World Report. Founded in 1844, Saint Mary's is a pioneer in the education of women, and is sponsored by the Sisters of the Holy Cross.