Chemistry Research Team Unveils New Device to Screen for Counterfeit Drugs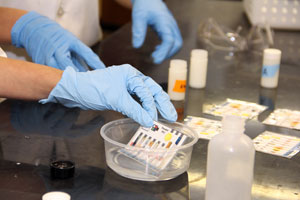 The paper analytical device or PAD is the size of a business
card. The user simply swipes the pill across card and then
dips the base of the card in water to get a reading.
The screening takes just five minutes.Contact:
Gwen O'Brien 
Director of Media Relations
Saint Mary's College
Notre Dame, IN 46556
(574) 284-4579
August 19, 2012 (Notre Dame, Ind.)—A Saint Mary's College chemistry research team has developed an inexpensive paper-based tool that can screen for counterfeit pain relievers. The paper analytical device (PAD) is the size of a business card and offers results in less than five minutes. It's technology that could ferret out other fake drugs that promise cures for everything from malaria to the flu. Counterfeit pharmaceuticals are a serious problem in developing countries. The College, with the University of Notre Dame, has applied for a U.S. patent for the PAD and the patent is pending. It's the first time Saint Mary's has applied for a patent.
Undergraduate researchers at this Catholic, liberal arts women's college modified existing paper-strip technology to develop PADs that screen for substandard tablets of Panadol. Panadol is one of multiple brand names used abroad for the pain and fever reliever acetaminophen. The Saint Mary's research team led the Panadol project with researchers at the University of Notre Dame.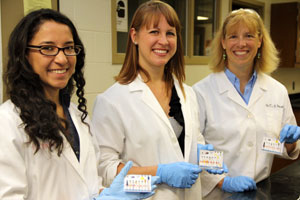 Saint Mary's College chemistry professor Toni Barstis, far
right, and from left, researcher Diana Vega Pantoja '13
and Saint Mary's alumna researcher Elizabeth Bajema
hold the paper analytical device they helped develop at
Saint Mary's in collaboration with Notre Dame researchers."Panadol has long been among the most common, standard pain relieving drugs counterfeited around the world," said Saint Mary's chemistry professor Toni Barstis who led the team. "In the past, you could just look at the labeling and packaging and know if it was counterfeit. Now, they do such a good job with the package design it's hard to determine whether it's a package of the genuine medicine or a fake that contains no acetaminophen or even ingredients that may be harmful."
Barstis and two members of her team—a Saint Mary's chemistry student and a recent alumna—presented their research results upon invitation today in Philadelphia at the 244th National Meeting and Exposition of the American Chemical Society (ACS). ACS is the world's largest scientific society. Click to see video of ACS press conference.
The tool that Barstis' team developed uses a chemically treated paper that resembles a business card. To check for counterfeit ingredients, a person simply swipes the pill onto the PAD and dips the PAD in water. Color changes on the paper indicate both suspicious and authentic ingredients. The screening takes less than five minutes and can be done by consumers. This lies in stark contrast to high-tech analytical methods, which are expensive and time-consuming. For instance, instrumental testing of pharmaceuticals in labs in Kenya can take 3-6 months. Precious time can be lost as a patient waits for treatment.
Barstis said the counterfeit acetaminophen products are just the tip of the iceberg. Other fake pharmaceuticals are marketed as cures for infections, malaria, and the flu. Some contain acetaminophen, which reduces pain and fever, but do not contain the active ingredient to combat these diseases. Because the Panadol PAD checks for the presence of acetaminophen, it can be modified to screen the other drugs. Barstis' team—in collaboration with chemistry, biochemistry, computer science, and industrial design teams at the University of Notre Dame—is developing similar tools to identify counterfeit antibiotics, anti-malaria drugs, and Tamiflu, the influenza medication.
The World Health Organization estimates that 10-30 percent of the drug supply in developing countries consists of counterfeit medicines, causing hundreds of thousands of deaths each year. Problems have been documented, for instance, in Kenya, Nigeria, India, Vietnam, and Panama. Officials blame crime rings, which profit from selling pills that contain plaster of Paris, baking soda, or other inexpensive ingredients.
Presenting with Barstis at the ACS meeting were Elizabeth Bajema '11, the PADs project professional specialist, and student researcher Diana Vega Pantoja '13. Bajema, who graduated from Saint Mary's in 2011, delayed graduate chemistry studies at Northwestern University to continue her work on the PADs project, this time as a College employee. Pantoja is a dual-degree engineering student working towards a degree in chemistry from Saint Mary's and a chemical engineering degree from the University of Notre Dame. She's glad to be part of the PADs project and calls Barstis a mentor.
"I can't imagine a more supportive, energetic, and demanding mentor than Doctor Barstis," said Pantoja, a dual degree student who is also earning an engineering degree at Notre Dame. "She believes in us and pushes us to achieve our highest potential. She is passionate about getting women interested in science in general, not only chemistry."
About the American Chemical Society: The American Chemical Society is a nonprofit organization chartered by the U.S. Congress. With more than 164,000 members, ACS is the world's largest scientific society and a global leader in providing access to chemistry-related research through its multiple databases, peer-reviewed journals and scientific conferences. Its main offices are in Washington, D.C., and Columbus, Ohio.
About Saint Mary's College: Saint Mary's College, Notre Dame, Ind., is a four-year, Catholic, women's institution offering five bachelor's degrees and more than 30 major areas of study. Saint Mary's College has six nationally accredited academic programs: social work, art, music, teacher education, chemistry and nursing. Saint Mary's College ranks among the top 100 "Best National Liberal Arts Colleges" for 2012 published by U.S.News and World Report. Founded in 1844, Saint Mary's is a pioneer in the education of women, and is sponsored by the Sisters of the Holy Cross.