Saint Mary's College Loses a Cherished Leader, Sister M.L. Gude, CSC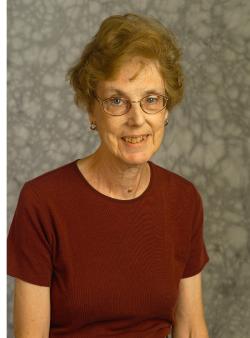 Sister Mary Louise Gude, CSC, 1939-2013Contact:
Gwen O'Brien
Director of Media Relations
Saint Mary's College
Notre Dame, Ind.
(574) 284-4579
January 11, 2013 (Notre Dame, Ind.)—Saint Mary's College is saddened to learn of the passing of Sister Mary Louise Gude, CSC, former vice president for Mission. "Sister M.L.," as she was known, passed away Wednesday, January 9, at 7:55 p.m. at Saint Mary's Convent at the age of 73. She enjoyed a rewarding career at Saint Mary's and the University of Notre Dame that spanned four decades.
"Sister M.L. had superb academic training and intellectual abilities, but she may be remembered most as a caring and compassionate leader. Her life was spent in service to the Congregation, Saint Mary's College, and the University of Notre Dame. She was a great favorite of students, faculty, and administrators who enjoyed her counsel and company. As our vice president for Mission, Sister M.L.'s tenure was marked by great love of our students. She will be greatly missed by all who knew her," said Saint Mary's College President Carol Ann Mooney.
 Sister M.L. was a 1963 alumna of Saint Mary's College, having earned a bachelor of arts degree in secondary education and French. She held a licentiate from the University of Montreal (1968) and a PhD in French literature from the University of Pennsylvania (1976). She was a scholar of 17th century French fiction and 20th century French intellectual history and the author of two books: Le Page Disgracié: the Text as Confession and Louis Massignon: The Crucible of Compassion.
A native of Cleveland, Sister M.L. spent most of her adult life serving Saint Mary's College and the University of Notre Dame in various capacities. At Saint Mary's she served as assistant professor of French from 1976-1991 and coordinator of the French program at the College from 1977-1987. She was the chair of the Department of Modern Languages from 1983-1987. In 1983, while still working at Saint Mary's, she moved to Notre Dame to become assistant rector at Breen-Phillips Hall. In 1987 she became rector of Farley Hall, serving in that post until 1993. She stayed on the Notre Dame campus teaching French in the Department of Romance Languages, and became assistant vice president for student affairs in 1998, a post she held until 2006. After a brief retirement, in 2009 she accepted the position at Saint Mary's College as vice president for mission, which she held until 2011.
The arrangements for Sister Mary Louise Gude are as follows: The visitation, wake, and funeral will all take place at the Church of Our Lady of Loretto on the Saint Mary's campus. The visitation will be from 5-8:30 p.m. on Sunday, January 13 with a wake service at 7 p.m. The funeral will be at 10:30 a.m. on Monday, January 14. Click for a campus map.
About Saint Mary's College: Saint Mary's College, Notre Dame, Ind., is a four-year, Catholic, women's institution offering five bachelor's degrees and more than 30 major areas of study. Saint Mary's College has six nationally accredited academic programs: social work, art, music, teacher education, chemistry and nursing. Saint Mary's College ranks among the top 100 "Best National Liberal Arts Colleges" for 2013 published by U.S. News. Founded in 1844, Saint Mary's is a pioneer in the education of women, and is sponsored by the Sisters of the Holy Cross.