Saint Mary's Announces 2014 Commencement News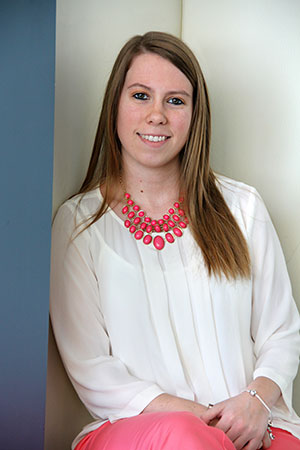 Brianne Michaels, Valedictorian of the
Class of 2014Contact:
Gwen O'Brien
Director of Media Relations
Saint Mary's College
(574) 284-4579
March 4, 2014 (Notre Dame, Ind.)— Saint Mary's College is proud to announce details of its 167th Commencement, which will take place at noon on Saturday, May 17 on Le Mans Green in front of the iconic Le Mans Hall. There are 273 members of the Class of 2014, representing 27 states and two countries other than the U.S. (one is from Bolivia and one student is from Peru).

The valedictorian for the Class of 2014 is Brianne Michaels, a computational mathematics major from Valparaiso, Ind.

"I am truly honored to be named valedictorian and I am excited to have the opportunity to deliver my commencement speech to the fabulous Class of 2014," Michaels said. "I have gained life-long friends at Saint Mary's, which is just as valuable to me as the outstanding education I have received. My mathematics professors challenged me academically, because I believe they have always understood my potential. I learned more than I could have ever imagined, both about myself and about the subject. The mathematics department, including the students, became my family away from home."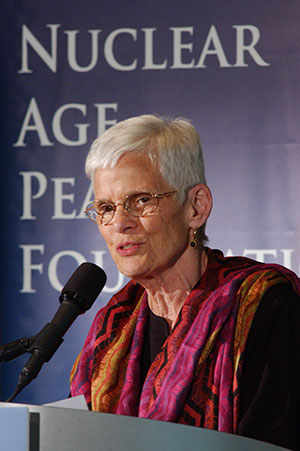 Judith Mayotte, 2014 Commencement
Speaker and Honorary Degree Recipient
(photo courtesy of Rick Carter/NAPF)
After graduating, Michaels will join Land O'Lakes, Inc., in Minneapolis as an information technology rotational analyst. She interned at Land O'Lakes in the summer of 2013 and the company honored her with the prestigious Intern Award for her outstanding performance and leadership.
The 2014 Commencement speaker is Judith Mayotte, a humanitarian, professor, author, and Emmy Award-winning television producer. The College will present her with an honorary doctor of humanities degree. Also receiving an honorary doctorate at Commencement will be Helen Murray Free, a pioneering chemist who conducted research that revolutionized diagnostic testing in the laboratory and at home.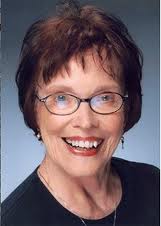 Helen Murray Free, Honorary
Degree Recipient"I am delighted to recognize two exceptional women this year with honorary degrees from Saint Mary's College," said Saint Mary's College President Carol Ann Mooney. "Their backgrounds and achievements fit perfectly with our dreams for our graduates. Judith Mayotte is an internationally recognized humanitarian who has spent her life working to affect positive change for refugees and others. Helen Murray Free's discoveries in the field of chemistry improved health monitoring for people with diabetes and other conditions. I look forward to meeting them both and learning more about their extraordinary lives." (Read more on the honorary doctorate recipients further down in this press release.)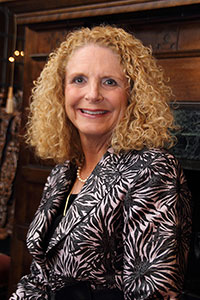 Sarah Belanger Earley '71, President's
Medal RecipientIn addition, the College will honor Sarah Belanger Earley '71 with the President's Medal. The medal is presented rarely and exclusively to those who have offered exceptional contributions to the life of the College and the community. "Sarah has demonstrated her devotion to and love for Saint Mary's College throughout the many years she has served the College as a valued member of the Board of Trustees and the Alumnae Association Board of Directors," Mooney noted.
Earley is one of the tri-chairs tirelessly leading the $80 million Faith Always, Action Now campaign. She and her husband Tony Earley ('71) generously offered a match of $1 million to assist in raising funds for the renovation and expansion of Angela Athletic Facility, one of the campaign's eight areas of focus. The gift has been a catalyst for additional gifts toward what will be called the Angela Athletic & Wellness Complex, a facility that will be a central gathering spot that provides space for fitness and wellness, classes, varsity teams, intramurals, and the Women's Health Center.
Judith Mayotte has worked among and advocated on behalf of refugees and internally displaced civilians around the world. She has served on a number of boards, including: Refugees International, the Women's Refugee Commission (Chair), the Desmond Tutu Peace Foundation, the International Rescue Committee, Visionaries, and the Global Ethics and Religion Forum. In 1994 the Clinton Administration appointed her to the U.S. Department of State's Bureau of Population, Refugees, and Migration as special adviser on refugee issues and policy. She has been recognized by numerous organizations, including the Nuclear Age Peace Foundation, which honored her with the Foundation's World Citizenship Award in 2009. Mayotte is also an Emmy and Peabody Award-winning television producer for her work on the documentary series "Portrait of America" and the author of Disposable People? The Plight of Refugees.
Mayotte has taught at several universities including, most recently, The University of the Western Cape, Cape Town (South Africa). While at Seattle University and Marquette University, she created two international service-learning programs: the Marquette University South Africa Service-Learning Program and Seattle University's International Development Internship Program.
Helen Murray Free had intended to major in English and Latin in college, but then Pearl Harbor was bombed, men went off to war, and women were strongly encouraged to pursue careers in science. She majored in chemistry and went on to have a 60-year career with Miles Laboratories (later Bayer Diagnostics) in Elkhart where she worked as a researcher, director, manager, and later as a consultant. 
She and her late husband, Alfred Free, a noted biochemist, together changed the face of medical diagnostics. Their research culminated in the development of the first dip-and-read diagnostic test strips for monitoring glucose in urine. Today, the availability and low cost of dip-and-read strips make testing for diabetes, pregnancy, etc. available even in developing countries, saving or extending lives.
Free holds seven patents and is the recipient of numerous awards including the American Chemical Society's Garvan Medal (1980), the National Medal of Technology and Innovation (2010), and the American Chemical Society's 66th National Historic Chemical Landmark designation (2010). 
About Saint Mary's College: Saint Mary's College, Notre Dame, Ind., is a four-year, Catholic, residential, women's liberal arts college offering five bachelor's degrees and more than 30 major areas of study, such as business, nursing, art, chemistry, and social work. The College's single-gender environment has been proven, in study after study, to foster confidence, ethical leadership, and strong academic success. Saint Mary's College ranks 76 among the 248 "Best National Liberal Arts Colleges" for 2014 published by U.S. News and World Report. Founded in 1844 by the Sisters of the Holy Cross, Saint Mary's College's mission is to educate women and prepare them for postgraduate success whether it's a first job, graduate school, or postgraduate service.