"Dance Arts 2014: Live, Love, Dance," Feb. 6-8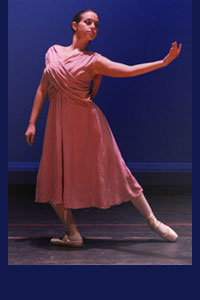 Contact:
Gwen O'Brien
Director of Media Relations
Saint Mary's College
gobrien@saintmarys.edu
(574) 284-4579
January 22, 2014 (Notre Dame, Ind.)—The Saint Mary's College Dance Ensemble Workshop is proud to present Dance Arts 2014: Live, Love, Dance, Thursday, Feb. 6 through Saturday, Feb. 8. Dance Arts is an annual event that showcases new works by local artists performed by students. The performances will take place in O'Laughlin Auditorium at 7:30 p.m. each night with a matinee at 2 p.m. on Saturday, Feb. 8. Click for a campus map. Ticket prices are listed at the end of this press release.
Dance Arts 2014 will incorporate a variety of dance styles including ballet, modern, and jazz. Each of the six dance selections is based upon an individual theme. These works include the titles "Magnifique," "So Pretty in the Sky," "On Any Monday," "At the End of the Day," "Tourbillon," and finally, "Alice's Adventures," a new piece that will present a picture of the iconic character Alice's journey through Wonderland. Artistic director and dance faculty member Laurie Lowry choreographed "Alice's Adventures" and organized Dance Arts 2014: Live, Love, Dance. The program will also feature costume designs by Melissa Bialko and lighting by Michaela Duffy — both members of the Saint Mary's theatre faculty — plus original artwork by art student Abby Kramer '15.
Technically proficient student dancers, who audition to be a part of the Ensemble Workshop, put on the event. This year, the performance will be by 13 Saint Mary's dance students, most of whom are pursuing a dance minor at the College. In addition, two talented dance artists will perform new modern dance pieces that they choreographed. Lowry describes the work to be performed by guest artist Sarah Edgar as, "an interesting piece that draws from Baroque dance patterns, sculpture, and hand gesture." The second guest artist is choreographer Marlayna Locklear who will present "a jazzy and somewhat hip-hop styled piece." 
Lowry says Dance Arts is a not-to-miss annual event. "I feel the arts bring peace, curiosity, patience, awakening, and understanding, and unites all humans with common experiences and feelings. We laugh, cry, seek understanding, communicate, listen, and simply enjoy while experiencing art. If we could bring an artistic experience to every human, our world might yearn for different goals. I encourage everyone to search for an art, dance, music or theater class and experience for yourself the great joy art can bring you."  
 Tickets may be purchased online at moreaucenter.com, by visiting the Moreau Center Box Office Monday-Friday, 9 a.m. to 5 p.m., or calling (574) 284-4626.
Ticket prices for evening performances, Feb. 6-8:
Adults: $13
Senior Citizens: $12
Faculty/Staff (Saint Mary's College, University of Notre Dame, Holy Cross College): $10
Students (Saint Mary's College/University of Notre Dame/ Holy Cross College): $8
Ticket prices for matinee, Feb. 8 ("family-friendly" pricing*):
Adults: $10
Senior Citizens: $9
Faculty/Staff (Saint Mary's College, University of Notre Dame, Holy Cross College): $7
Students (Saint Mary's College/University of Notre Dame/ Holy Cross College): $5
Children under 12: Free
*For an even steeper discount to the matinee, please contact the Moreau Box Office for a "family friendly" bundle opportunity to purchase tickets to this matinee and the children's opera The Enchanted Pig, on Saturday, Feb. 22.
About Saint Mary's College: Saint Mary's College, Notre Dame, Ind., is a four-year, Catholic, residential, women's liberal arts college offering five bachelor's degrees and more than 30 major areas of study, such as business, nursing, art, chemistry, and social work. The College's single-gender environment has been proven, in study after study, to foster confidence, ethical leadership, and strong academic success. Saint Mary's College ranks 76 among the 248 "Best National Liberal Arts Colleges" for 2014 published by U.S. News and World Report. Founded in 1844 by the Sisters of the Holy Cross, Saint Mary's College's mission is to educate women and prepare them for postgraduate success whether it's a first job, graduate school, or postgraduate service.