Dance Marathon to Raise Funds for Riley Hospital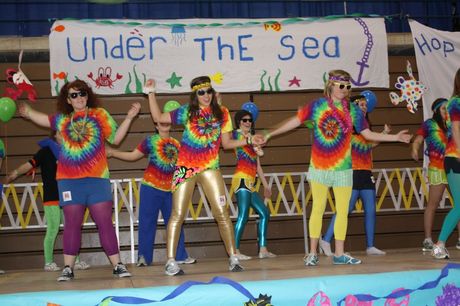 Photo taken at the 2011 Dance Marathon. Contact:
Gwen O'Brien
Director of Media Relations
Saint Mary's College
(574) 284-4579
March 21, 2012 (Notre Dame, Ind.)—Hundreds of students from Saint Mary's College, Holy Cross College, and the University of Notre Dame are expected to lace up their dancing shoes for the seventh annual Saint Mary's College Dance Marathon. The 12-hour event, which supports Riley Hospital for Children at Indiana University Health, will kick off at 12 p.m. on Saturday, March 31 in the Angela Athletic Facility (campus map). The Indianapolis hospital treats sick children from all over the state, including the South Bend area.
This year's event has an animal kingdom theme. At 2 p.m. there will be a live animal show titled "Silly Safari" which may include anything from birds to porcupines. From 5 to 8 p.m. lion or tiger cubs will be on site and visitors will be be able to pet them. Michiana residents can visit the Dance Marathon website to sign up to participate or donate to the cause. The public is also invited to attend Dance Marathon and donations to the cause will be accepted at the event.
Since Saint Mary's students began the Dance Marathon in 2006, they have raised more than $383,000 for the General Benefit Fund at Riley, which supports the areas of the hospital that have the greatest need. Last year's event generated more than $63,000. Riley challenged the Saint Mary's Dance Marathon to raise 20% more than last year's total, which sets the fundraising goal at $76,000.
Senior Rebecca Guerin, president of Dance Marathon, is excited about this year's Marathon.
"We have more Riley families attending than we have ever had, plus we're doing something new by having live animals at the Marathon. It will be a celebration of a year's worth of hard work and I truly think it's going to be the best Marathon we have had," Guerin said.
This year's Marathon will take place over "Little Sibs" weekend at the College, offering students' siblings the opportunities to learn more about Riley Hospital for Children and participate in the Dance Marathon fun.
Guerin said as the Marathon progresses, fun surprises await the participants.
The grand fundraising total will be announced at midnight. The total will include monies raised at "Mini-Marathons" held at Warsaw High School, Bremen High School, and Northridge Middle School, with the help of Saint Mary students. In April and May, Marian High School, Saint Joseph's High School, and Elkhart Central High School will host Mini-Marathons.
 "The success of Dance Marathon is a testament to the student experience here," said Karen Johnson, vice president for Student Affairs at Saint Mary's College. "At Saint Mary's College we prepare women to make a difference in the world. Look at the difference that students have made for Riley, raising more than $383,000 in six years for the treatment of sick children. Dance Marathon is a student-led event, and our students handle every detail. They organize the day, book the entertainment, find business sponsors, get students excited to dance, and secure donations. It's not only a great cause; it is also a wonderful learning experience for them as they get ready to start their careers."
About Saint Mary's College: Saint Mary's College, Notre Dame, Ind., is a four-year, Catholic, women's institution offering five bachelor's degrees and more than 30 major areas of study. Saint Mary's College has six nationally accredited academic programs: social work, art, music, teacher education, chemistry and nursing. Saint Mary's College ranks among the top 100 "Best National Liberal Arts Colleges" for 2012 published by U.S.News and World Report. Founded in 1844, Saint Mary's is a pioneer in the education of women, and is sponsored by the Sisters of the Holy Cross.