Students Celebrate 9th Year for Dance Marathon


Contact:
Gwen O'Brien
Director of Media Relations
Saint Mary's College
(574) 284-4579

April 2, 2014 (Notre Dame, Ind.)—On April 5, more than 400 students will participate in the 9th annual Saint Mary's College Dance Marathon (SMCDM). The 12-hour no sitting, no sleeping event has raised more than half a million dollars for Riley Hospital for Children at Indiana University Health since students started holding the event. The 2013 event raised $104,374.83 for clinical care and medical research at Indiana's only nationally ranked and comprehensive children's hospital.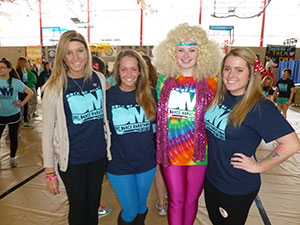 The event takes place in Angela Athletic Facility from noon to midnight. The community is invited to attend Dance Marathon, which will feature music, games, crafts, and other entertainment. Monetary donations are encouraged. Saint Mary's students raise most of the funds by pledging to stay on their feet for 12 hours and finding sponsors. University of Notre Dame students also take part. Throughout the day, local Riley families will stop by; many will share their stories.
SMCDM is the big finish after a year of fundraisers. This year students have organized a concert, 5K run/walk, coupon book and apparel sales, and Give Back Nights at local restaurants where a percentage of sales benefit Riley Hospital. There are also mini-marathons held by students at local high schools including Bremen High School, Elkhart Central High School, and Warsaw High School. The totals from all of these fundraisers are rolled into the SMCDM total, which is announced at the end of the night.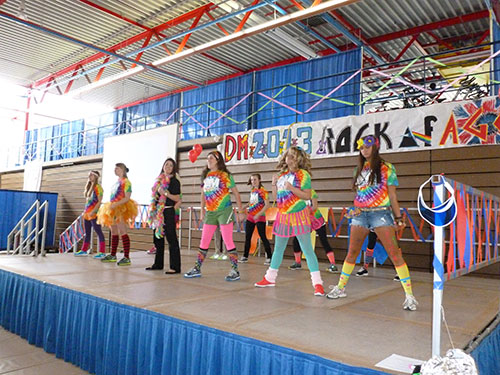 SMCDM is more than a long-distance relationship between Saint Mary's College and Riley Hospital, which is three hours south of campus in Indianapolis. Families from St. Joseph and surrounding counties turn to Riley Hospital and its regional clinics more than 5,000 times each year for compassionate care, comfort and support for their children. For more than 20 years Riley Hospital physicians have traveled to South Bend to provide medical care for children. Ten out of 10 medical specialty programs are ranked among the best in the nation by U.S. News & World Report's 2013-14 edition of Best Children's Hospitals.
About Saint Mary's College: Saint Mary's College, Notre Dame, Ind., is a four-year, Catholic, residential, women's liberal arts college offering five bachelor's degrees and more than 30 major areas of study, such as business, nursing, art, chemistry, and social work. The College's single-gender environment has been proven, in study after study, to foster confidence, ethical leadership, and strong academic success. Saint Mary's College ranks 76 among the 248 "Best National Liberal Arts Colleges" for 2014 published by U.S. News and World Report. Founded in 1844 by the Sisters of the Holy Cross, Saint Mary's College's mission is to educate women and prepare them for postgraduate success whether it's a first job, graduate school, or postgraduate service.
About Riley Children's Foundation: Riley Children's Foundation supports Riley Hospital for Children at Indiana University Health, Camp Riley and the James Whitcomb Riley Museum Home. As Indiana's only comprehensive hospital dedicated exclusively to the care of children, Riley Hospital has provided compassionate care, support and comfort to children and their families since 1924. Each year children from all 92 Indiana counties turn to Riley Hospital and its regional clinics throughout the state more than 300,000 times. Riley Hospital's partnership with Indiana University Health and its strong affiliation with the Indiana University School of Medicine make Riley Hospital the leader in pediatric care in the state and the region. For more information, visit RileyKids.org.