Student-led Dance Marathon to Raise Funds for Riley Hospital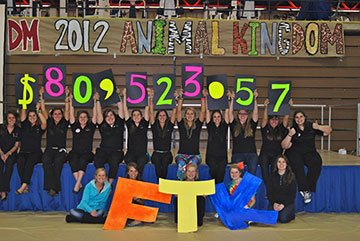 This photo was taken at the end of the 2012 Dance Marathon when
the amount raised is announced. Since students brought the event
to Saint Mary's in 2006, they have raised more than $460,000 for
Riley Hospital for Children.Contact:
Gwen O'Brien
Director of Media Relations
Saint Mary's College
(574) 284-4579 (desk)

March 11, 2013 (Notre Dame, Ind.)—The eighth annual Saint Mary's College Dance Marathon will kick off at noon on Saturday, March 23 in the Angela Athletic Facility. The 12-hour student-led event raises funds for Riley Hospital for Children in Indianapolis, where sick children from around the state find care.

The community is invited to attend the Marathon, which will feature music, games, crafts, and other entertainment. Monetary donations are encouraged. About 300 people are expected to come to the Marathon and party their socks off for the cause. Dance Marathon falls on the same weekend as Lil Sib's Weekend, giving the siblings of Saint Mary's students a chance to learn about the cause and participate in the fun.
Participants of Dance Marathon raise most of the funds through sponsors by pledging to stay on their feet for 12 hours and through local business support. Saint Mary's students, as well as University of Notre Dame and Holy Cross College students, take part. Throughout the event, local Riley families will stop by, sometimes sharing their stories.
Amy Tiberi '13, president of Dance Marathon, is looking forward to this year's event. "The most satisfying part of Dance Marathon is seeing how many people are affected by this student-run organization. It's amazing to me to see so many people to come together and show so much passion for people they've never even met."
This year's theme is "Rock of Ages" and the 12-hour time frame will be divided into different decades, focusing on the music and culture of the time. There will be a performance from the Saint Mary's a cappella group Bellacappella, a rave hour, and a lot of time to learn dances and have a great time.
The Marathon is the big finish after a year of fundraisers. This year Saint Mary's students organized a concert, a 5K run/walk, coupon book and apparel sales, and Give Back Nights at local restaurants where a percentage of sales benefit Riley. There are also mini-marathons held by students at local high schools including Marian High School and Bremen High School. The totals from all of these fundraisers are rolled into the Dance Marathon total, which is announced at the end of the night.
The Marathon supports the General Benefit Fund, which funds areas of Riley Hospital that have the greatest need including clinical programs and medical research. Since Saint Mary's students brought Dance Marathon to the school in 2006, they have raised more than $460,000 for Riley Hospital.
About Saint Mary's College: Saint Mary's College, Notre Dame, Ind., is a four-year, Catholic, women's institution offering five bachelor's degrees and more than 30 major areas of study. Saint Mary's College has six nationally accredited academic programs: social work, art, music, teacher education, chemistry and nursing. Saint Mary's College ranks among the top 100 "Best National Liberal Arts Colleges" for 2013 published by U.S. News. Founded in 1844, Saint Mary's is a pioneer in the education of women, and is sponsored by the Sisters of the Holy Cross.