Dance Marathon Raises a Record $104,000+ for Riley Hospital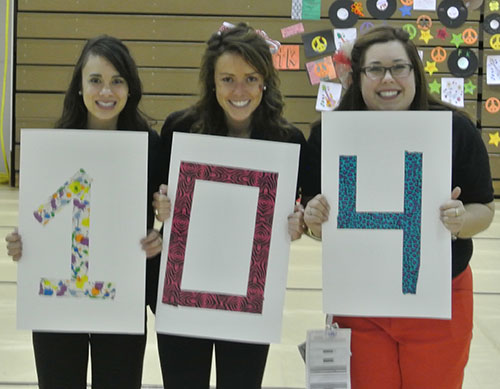 Dance Marathon Vice Presidents Alyssa Vinluan '13
and Kate Kellogg '13 and President Amy Tiberi '13
hold up "104" as in "$104,374.83 this year. Contact:
Gwen O'Brien
Director of Media Relations
Saint Mary's College
Notre Dame, Ind.
(574) 284-4579
March 25, 2013 (Notre Dame, Ind.)—Saint Mary's College students proudly announce that a record $104,374.83 was raised for Riley Hospital for Children in Indianapolis thanks to Dance Marathon. That is more than any single year in the eight years of Marathons at the College. "Mini" Dance Marathons held at Marian High School, Bremen High School, and Northridge Middle School contributed to the total. The figure was announced at the end of the 12-hour Marathon, which wrapped up at 12 a.m. Sunday in the Angela Athletic Facility.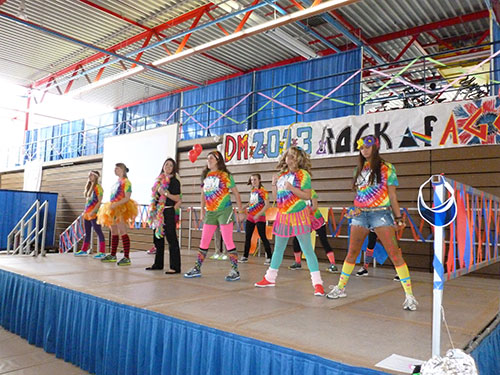 Dance Marahon leaders teach the crowd the morale dance, used
to boost morale throughout the afternoon and night."Seeing that number revealed at the end of the night was absolutely amazing," said Amy Tiberi, Dance Marathon president. "I can't even put words to how proud I am of this year's Dance Marathon executive board, committees and dancers. Seeing the passion and dedication from college students for a cause bigger than this campus and even the South Bend community is such a humbling experience. Like I told them Saturday night, 'A lot more miracles will be made at Riley because of that number.'"
Dance Marathon supports the General Benefit Fund, which funds areas of Riley Hospital that have the greatest need, including clinical programs and medical research. Since Saint Mary's students brought Dance Marathon to the school in 2006, they have raised more than $610,000 for Riley. The hospital treats children from all over the state, including the South Bend area.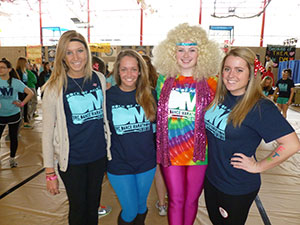 "Rock of Ages" was the theme of this year's event.
From left to right are Stephanie Gehring '13, Meghan
Cronin '13, Bridgid Hurley '13, and Eileen Veihmeyer '13.Participants of Dance Marathon raise most of the funds through sponsors by pledging to stay on their feet for 12 hours and through the support of local businesses. Saint Mary's students, as well as University of Notre Dame and Holy Cross College students, take part. Throughout the event, local Riley families stopped by, often sharing their stories.
The Marathon is the big finish after a year of fundraisers. This year Saint Mary's students organized a concert, a 5K run/walk, coupon book and apparel sales, and Give Back Nights at local restaurants where a percentage of sales benefit Riley. The totals from all of these fundraisers and the "mini" Dance Marathons at the other schools are rolled into the Dance Marathon total.
About Saint Mary's College: Saint Mary's College, Notre Dame, Ind., is a four-year, Catholic, residential, women's liberal arts college offering five bachelor's degrees and more than 30 major areas of study, such as business, nursing, art, chemistry, and social work. The College's single-gender environment has been proven, in study after study, to foster confidence, ethical leadership, and strong academic success. Saint Mary's College ranks among the top 100 "Best National Liberal Arts Colleges" for 2013 published by U.S. News. Founded in 1844 by the Sisters of the Holy Cross, Saint Mary's College's mission is to educate women and prepare them for postgraduate success whether it's a first job, graduate school, or postgraduate service.