Dance Ensemble Workshop Presents "a Time to Dance..."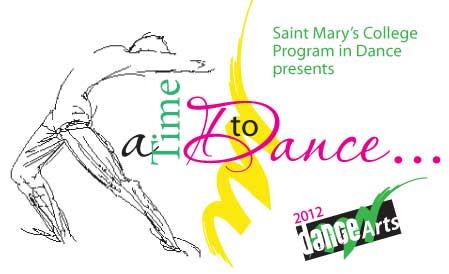 Contact:
Gwen O'Brien
Director of Media Relations
Saint Mary's College
gobrien@saintmarys.edu
(574) 284-4579
April 13, 2012 (Notre Dame, Ind.)—The Saint Mary's College Dance Ensemble Workshop takes the stage of O'Laughlin Auditorium on Friday, April 27, and Saturday, April 28. Curtain times for DanceArts 2012: "a Time to Dance..." are 7:30 p.m. on Friday and Saturday with a 2 p.m. matinee on Saturday. DanceArts is an annual presentation of the Saint Mary's College Program in Dance, Department of Communication Studies, Dance and Theatre.
Artistic director Indi Dieckgrafe-Dreyer, dance professor at Saint Mary's, emphasizes the creativity and originality of the program's concepts, ideas, and production elements. This production honors International Dance Day 2012, Sunday, April 29, as declared by the International Dance Committee of the United Nations Educational, Scientific, and Cultural Organization (UNESCO). "This concert is dedicated to the art of dance, its history, contribution to society and its universal importance," said Dieckgrafe-Dreyer.
"a Time to Dance..." features choreography by faculty, guest artists, and one student choreographer Jean Medin '13 of Elkhart. The Dance Ensemble Workshop functions as the College's dance company in residence. Most of the performers are pursuing the dance minor through the Saint Mary's College Program in Dance. The Dance Ensemble features the most technically proficient dancers who must audition for enrollment in the academic course.
Keep in mind, it is difficult to put into words that which can be expressed through the art of dance. A brief synopsis of dances to be performed is as follows:
- The opening dance, "Me Too,"is performed by seven dancers and seven school desks. This piece is funny and light-hearted based on the concept of boredom. The dance is performed to the music of composer Kentucky T. Dutchersmith of Goshen "I'm bored."
- A solo, choreographed by Medin, is a product of the Dance Composition class taught by Dieckgrafe-Dreyer. "Legacy" refers to the historical characteristics of Boudica, a legendary Celtic female warrior.
- "Work Gifts," a trio by Dieckgrafe-Dreyer fuses the talents and gifts of two women and Brock Switzer, a theatre major and dance minor from the University of Notre Dame. The music score of the Beatles' "Come Together" performed by the Canadian Brass Ensemble supports the work.
- "Falling" features Kristi Hingstrum '09 performing the choreography of Lisa Frank. As a gift to the Dance Program, Frank has given her work for the permanent repertoire of the Dance Ensemble Workshop.
Dieckgrafe-Dreyer is personally excited to be returning to the stage after over 15 years. At age 55 she is the youngest performer in her new trio "Grow in Light," set to five a cappella spirituals of the Shaker tradition. Her professional colleagues, guest artists from Chicago Jane Siarny and Maggie Kast, join her in the dance. The concert also features Kast's choreography, "Women at the Well." This dance is based on the story of the Samaritan woman at the well in the fourth chapter of the Gospel of John.
"Consider dance; it's beautiful spectrum of forms and styles, allowing us to communicate and enjoy life and art through human movement. Together, let us acknowledge Dance Day 2012 as it is celebrated by an international community of dancers and dance enthusiasts," said Dieckgrafe-Dreyer.
The program of eleven dances includes five premieres and ranges in genres from modern, contemporary ballet, and national character dances. The show will run for approximately 90 minutes, including a 15-minute intermission. Click for a campus map. Tickets may be purchased online or by visiting the Moreau Center box office Monday-Friday, 9 a.m. to 5 p.m. or calling (574) 284-4626.
Ticket prices are as follows:
Adults:  $13
Senior Citizens:  $12
SMC/ND/HCC Faculty and Staff:  $10
SMC/ND/HCC Students:  $8
About Saint Mary's College: Saint Mary's College, Notre Dame, Ind., is a four-year, Catholic, women's institution offering five bachelor's degrees and more than 30 major areas of study. Saint Mary's College has six nationally accredited academic programs: social work, art, music, teacher education, chemistry and nursing. Saint Mary's College ranks among the top 100 "Best National Liberal Arts Colleges" for 2012 published by U.S.News and World Report. Founded in 1844, Saint Mary's is a pioneer in the education of women, and is sponsored by the Sisters of the Holy Cross.