Mom of Victim of Texting and Driving Accident to Speak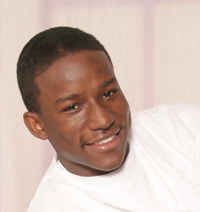 Rodney Thompson II of Fort Wayne died
in a car accident while writing or reading
a text. His mother travels to school to
educate young people on the dangers
of distracted driving.Contact:
Gwen O'Brien 
Director of Media Relations
Saint Mary's College
Notre Dame, IN 46556
(574) 284-4579
April 17, 2012 (Notre Dame, Ind.)—Saint Mary's College students are proud to host a talk on the dangers of texting and driving. Diveeta Thompson, founder of Stop Texting AND Driving Distracted (STANDD) is the featured speaker. The engagement, which is sponsored by the College's Student Involvement and Multicultural Services office and Anthony Travel, will be held Wednesday, April 25 at 5:30 p.m. in the Student Center Lounge, on the main level of the Student Center (campus map). Also speaking will be Lt. Tim Williams of the Mishawaka Police Department. The event is free and open to the public. Young drivers are encouraged to attend.
In October of 2008 Diveeta Thompson's 18-year-old son, Rodney Thompson II, lost his life because of distracted driving. According to the STANDD website texting, music, and speed were all likely factors in the crash. When the teenager reached for his phone to receive or send a text, he lost control of his car. In an effort to prevent other families from experiencing the pain of losing a loved one, the mother started STANDD. The Fort Wayne resident has taken her powerful message to local high schools, colleges, radio public service announcements (PSAs) and even the Oprah Winfrey Show. She is passionate about lending her voice to save the lives of others. In doing so, she can assure that Rodney is remembered.
"Knowledge is power and many are not aware of the dangers of distracted driving," Thompson said. "In between life and death, there is so much one is purposed to do, and because of distracted driving this was taken away from my son. In an effort to save lives, I lend my voice and my pain, because no one should endure the loss of a loved one."
Morgan Carroll, a Saint Mary's freshman, is the coordinator of the event. Carroll, also from Fort Wayne, heard Thompson speak at her high school last year. She was so inspired by Thompson's message that she felt inclined to share it with others.
"I talked to Diveeta personally and she is always looking for help to spread the word against texting and driving," Carroll said. "When I mentioned the idea of her coming to Saint Mary's, she was all ears for the possibility."
Carroll says Thompson's speaking engagement will be inspirational and educational for not only Saint Mary's students, but the public as well.
"Distracted driving is overlooked and people do not realize the negative impact it can have on lives," Carroll said. "Seeing it through a firsthand experience, like Ms. Thompson's, can open one's eyes to the reality and truth behind it all."
About Saint Mary's College: Saint Mary's College, Notre Dame, Ind., is a four-year, Catholic, women's institution offering five bachelor's degrees and more than 30 major areas of study. Saint Mary's College has six nationally accredited academic programs: social work, art, music, teacher education, chemistry and nursing. Saint Mary's College ranks among the top 100 "Best National Liberal Arts Colleges" for 2012 published by U.S.News and World Report. Founded in 1844, Saint Mary's is a pioneer in the education of women, and is sponsored by the Sisters of the Holy Cross.