CANCELLED: Dianne Wiest, Oscar and Emmy Award-winning Actress, Coming to Campus
Submitted by

gobrien

on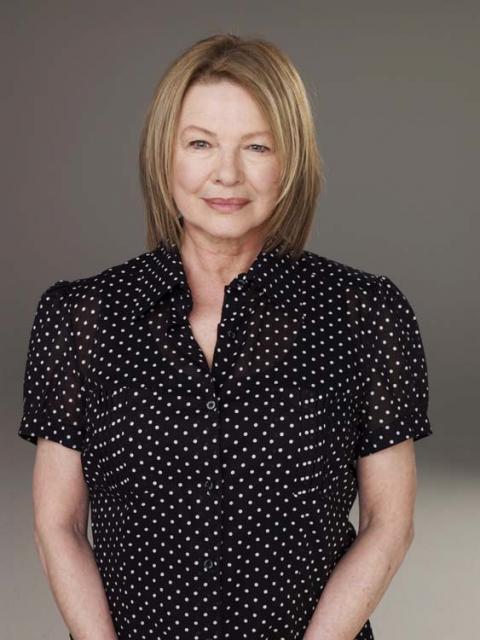 Actress Dianne Wiest is the 2013-14
Margaret M. Hill Endowed Visiting Artist.DUE TO INCLEMENT WEATHER AND A TRAVEL WARNING ISSUED BY ST. JOSEPH COUNTY, THIS EVENT IS CANCELLED. IF YOU PURCHASED TICKETS, PLEASE CONTACT THE BOX OFFICE WHEN THE COLLEGE REOPENS ON WED., JAN. 29, AT (574) 284-4626.
December 17, 2013 (Notre Dame, Ind.)—The Saint Mary's College Department of Communication Studies, Dance and Theatre will welcome Oscar and Emmy Award-winning actress Dianne Wiest to campus on Monday, January 27 as the 2013-14 academic year's Margaret M. Hill Endowed Visiting Artist. Wiest will conduct a master class with College theatre students in the morning and the public is invited to "An Evening with Dianne Wiest" at 7:30 p.m. in O'Laughlin Auditorium. Ticket information is below. 
Wiest most recently finished shooting the feature film The Humbling opposite Al Pacino and directed by Barry Levinson. Over the years she has given memorable performances in films such as Charlie Kaufman's Synecdoche, New York, A Guide to Recognizing Your Saints, Hannah and Her Sisters (Oscar), The Purple Rose of Cairo, Radio Days, September, Bullets Over Broadway (Oscar), Parenthood (Oscar nomination), Rabbit Hole, Footloose, Edward Scissorhands and The Birdcage.
Wiest received Emmys for her performances in "The Road to Avonlea" and in the HBO series "In Treatment."
On the stage, Wiest was most recently seen in "The Cherry Orchard" at Classic Stage Company, and before that, Arthur Miller's "All My Sons" on Broadway. Other New York theater appearances include "The Seagull" at Classic Stage Company, "Third," "Memory House,"  "Salome" and "Oedipus" with Al Pacino, "The Shawl," "Hunting Cockroaches," "After the Fall," "Beyond Therapy," and "The Art of Dining."
The Margaret M. Hill Endowed Visiting Artist Series is an annual event made possible by a generous gift from Hill, a Saint Mary's College alumna and a Broadway producer. Recent artists to visit the College as part of the series include Audra McDonald (spring 2013), Sigourney Weaver (fall 2011), Lily Tomlin (fall 2010), and Glenn Close (spring 2010).
"This visiting artist series provides a unique and invaluable experience for our theatre students at Saint Mary's College. They are able to visit with, learn from, and be inspired by nationally and internationally, renowned theatre artists whose talents have entertained and moved us all," remarks Katie Sullivan, associate professor of theatre at Saint Mary's College.
"Our students are coached and instructed by these artists and they receive advice and tips about how to make their way in the professional theatre world. They also have the opportunity to ask the artists various questions about their technique, particular roles or scripts or shows, how to balance career and personal life, and how to take the first steps after college" added Sullivan.
"An Evening with Dianne Wiest" will be held Monday, January 27 at 7:30 p.m. in O'Laughlin Auditorium. The event is free to Saint Mary's College, University of Notre Dame and Holy Cross College students, faculty, and staff, but tickets are required. They can receive their tickets at the Moreau Center of the Arts Box Office. Admission is $10 for the general public, $5 for senior citizens, and can be purchased by going to www.moreaucenter.com, by calling (574) 284-4626, or by stopping by the box office. (Note: Theatre students, faculty, and staff from Bethel College and IU South Bend may also receive complimentary tickets. Please contact the box office.)
About Saint Mary's College: Saint Mary's College, Notre Dame, Ind., is a four-year, Catholic, residential, women's liberal arts college offering five bachelor's degrees and more than 30 major areas of study, such as business, nursing, art, chemistry, and social work. The College's single-gender environment has been proven, in study after study, to foster confidence, ethical leadership, and strong academic success. Saint Mary's College ranks 76 among the 248 "Best National Liberal Arts Colleges" for 2014 published by U.S. News and World Report. Founded in 1844 by the Sisters of the Holy Cross, Saint Mary's College's mission is to educate women and prepare them for postgraduate success whether it's a first job, graduate school, or postgraduate service.