2013 Distinguished Alumna Award Recipient Announced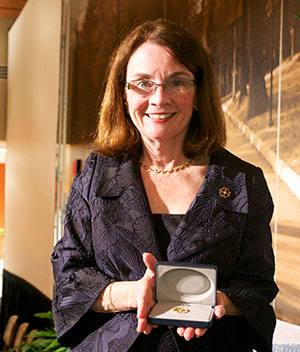 Nora Barry Fischer '73, the 2013 recipient of
the Distinguished Alumna AwardContact:
Gwen O'Brien
Director of Media Relations
Saint Mary's College
(574) 284-4579
June 3, 2013 (Notre Dame, Ind.)—The Distinguished Alumna Award, awarded annually by the Alumnae Association of Saint Mary's College, honors a woman who exemplifies the standards, ideals, and mission of this Catholic liberal arts women's college and who has given outstanding service through ongoing work for the Alumnae Association. The award is the association's highest recognition.
The 2013 recipient is Nora Barry Fischer '73 of Pittsburgh. Appointed as a United States District Court Judge for the Western District of Pennsylvania in 2007, Fischer works tirelessly for the advancement of women in the legal professions. Throughout her years as an alumna, Fischer has been an active and dedicated member of the Saint Mary's community. She received the Distinguished Alumna Award at the Reunion Banquet Saturday, June 1 as part of Reunion Weekend, May 30-June 2.
Fischer graduated magna cum laude from Saint Mary's in 1973 with bachelor's degrees in history and humanistic studies. She obtained her Juris Doctor in 1976 from the University of Notre Dame, after which she worked as a legal editor at Callaghan & Company in Chicago.
In 1977, Fischer became the first woman associate at Meyer Darragh Buckler Bebenek & Eck, a Pittsburgh insurance defense litigation firm. In 1980, she became the first woman junior partner and in 1982, the first woman senior partner. Fischer next joined the firm of Pietragallo Bosick & Gordon in 1992 as an equity partner. In her practice at both Meyer Darragh and PB&G, she handled product liability, toxic tort, insurance coverage, and bad faith litigation, as well as municipal liability and civil rights litigation. She is a member of the Bars of Illinois, Pennsylvania, and West Virginia.
Throughout her career, Fischer has been recognized for her professionalism and leadership by a number of professional associations, including the Pennsylvania Bar Association, which recognized her with the 2001 Anne X. Alpern Award, given by its Commission on Women in the Profession. The Pennsylvania Bar Association also honored her in 2004 for her work as a co-chair of the Task Force on Health Care Delivery in the Commonwealth of Pennsylvania. Fischer also received the 2006 Professionalism Award from the Civil Litigation Section of the Allegheny County Bar Association for "faithful adherence to the highest standards of legal professionalism."
In 2012, Fischer received the Susan B. Anthony Award from the Women's Bar Association of Western Pennsylvania, the highest honor bestowed by the Association. It recognized Fischer for her promotion of women in law and for upholding the standards of the legal profession.
A true pioneer in her profession, Fischer has devoted herself to helping young women just entering the legal field. In nominating Fischer for this award, Kathryn Lea Harrison '04, one of Fischer's many attorney mentees, said, "[Judge Fischer] has distinguished herself in every aspect of her life. She is widely regarded as one of the best former trial lawyers in Pittsburgh, one of the smartest and most respected Federal judges on the bench, and as a woman who dedicates herself to the growth and professional development of other women."
She served as a member of the Saint Mary's College Alumnae Association Board of Directors from 2006–2012. She serves on the board of the College's Pittsburgh-area alumnae club. In both of these roles she has acted as a liaison between the College and Pittsburgh alumnae, keeping her vibrant local club informed of campus news and connected with the College community. Fischer's involvement with the College extends to ongoing work with College Admissions. She is part of the Alumnae Resource Network and often hires Saint Mary's graduates as clerks. She also partners with the Career Crossings Office to mentor pre-law students.
This year, Fischer and her husband established the Donald R. (ND '73) and Nora Barry Fischer '73 Faculty Award for Teaching Excellence. This award recognizes excellence in discipline-specific teaching by a faculty member in upper-division courses in a major. In addition, Fischer and Donald are active in their community and in charitable causes in Pittsburgh. They are members of Sacred Heart Parish, Pittsburgh, and are well known for their generosity in organizations related to health and disease, as well as their involvement in the local arts community.
Click for information on the other 2013 Alumnae Association Award recipients. 
About Saint Mary's College: Saint Mary's College, Notre Dame, Ind., is a four-year, Catholic, residential, women's liberal arts college offering five bachelor's degrees and more than 30 major areas of study, such as business, nursing, art, chemistry, and social work. The College's single-gender environment has been proven, in study after study, to foster confidence, ethical leadership, and strong academic success. Saint Mary's College ranks among the top 100 "Best National Liberal Arts Colleges" for 2013 published by U.S. News. Founded in 1844 by the Sisters of the Holy Cross, Saint Mary's College's mission is to educate women and prepare them for postgraduate success whether it's a first job, graduate school, or postgraduate service.