Ann Korb '54 Receives 2014 Distinguished Alumna Award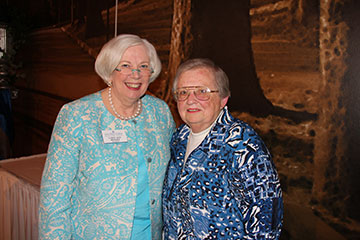 Distinguished Alumna Award recipient Ann Korb '54, left, poses with
Saint Mary's College President Carol Ann Mooney.Contact:
Gwen O'Brien
Director of Media Relations
Saint Mary's College
(574) 284-4579
June 1, 2014 (Notre Dame, Ind.)— The Distinguished Alumna Award, awarded annually by the Alumnae Association of Saint Mary's College of Notre Dame, IN, honors a woman who exemplifies the standards, ideals, and mission of this Catholic liberal arts women's college and who has given outstanding service through ongoing work for the Alumnae Association. The award is the association's highest recognition.

This year's recipient is Ann Korb '54, of South Bend, who exemplifies the standards, ideals, and mission of the College through leadership positions in her professional and personal life. The award was announced Saturday, May 31, at the Reunion Banquet held on campus.
Korb graduated from Saint Mary's with a degree in English literature and earned a master's in psychology from the University of Notre Dame. A respected high school English teacher in the South Bend Community School Corporation for more than 30 years, Korb discovered the potential of hundreds of students at Central High School and LaSalle High School. She also taught as an adjunct English professor at Saint Mary's and served as publications editor for the alumnae magazine, Saint Mary's College Courier.
Korb's service to the College has been continuous. She's a longtime member of the South Bend Alumnae Club and still serves as class reporter. She served eight years on the Alumnae Association Board of Directors and six years on the Madeleva Society Steering Committee. She has volunteered in service to the Admission Office. She also currently mentors two Saint Mary's students.
In her volunteer efforts, Korb's dedication to education is evident in her involvement with the Scholarship Foundation of St. Joseph County. Korb has served on the foundation since 1992 and has participated in several committees, including Newsletter, Long Range Planning, High School Coordinator, Awards, College Fair, History, Alumni Relations, and Mailings. She has been chair/co-chair of the Newsletter committee since 2002. In addition to the committee responsibilities, Korb has mentored a dozen students over the years through the Scholarship Foundation. As a mentor, she is paired with a student and mentors him or her for all four years.
Korb served on the Parish Council at St. Patrick's Parish and is also a Eucharist minister. She participates in Homebound Ministry, providing transportation to another minister who gives Communion to the homebound. Korb has been a member of Christ Child Society since 1976 and was in charge of the Society's Annual Mass at Fatima Retreat Center. She played a vital role in relocating the Christ Child's clothing center to its current location.
In nominating Korb for this award, Debbie Johnson Schwiebert '74 said Korb "uses her time, talent, and treasure to selflessly benefit the College, her church, and her community." Another nominator, Marlene Gaubinger McGinn '54, said it is serendipitous to recognize Korb this year for all her service work. "This is our class's 60th reunion year, and what a great time to honor Ann Korb for her continued long service and devotion to Saint Mary's."
About Saint Mary's College: Saint Mary's College, Notre Dame, Ind., is a four-year, Catholic, residential, women's liberal arts college offering five bachelor's degrees and more than 30 major areas of study, such as business, nursing, art, chemistry, and social work. The College's single-gender environment has been proven, in study after study, to foster confidence, ethical leadership, and strong academic success. Saint Mary's College ranks 76 among the 248 "Best National Liberal Arts Colleges" for 2014 published by U.S. News and World Report. Founded in 1844 by the Sisters of the Holy Cross, Saint Mary's College's mission is to educate women and prepare them for postgraduate success whether it's a first job, graduate school, or postgraduate service.