Students to Host Diverse Students' Leadership Conference

Contact:
Gwen O'Brien
Director of Media Relations
Saint Mary's College
(574) 284-4579
March 9, 2012 (Notre Dame, Ind.)—The 7th Annual Diverse Students' Leadership Conference (DSLC), hosted by the Saint Mary's College Student Diversity Board (SDB), will be held on Tuesday, March 20 and Wednesday, March 21 in the Student Center (campus map). The event is free and open to the public and registration is not required. This year's DSLC theme is, "To change the world, you must start with yourself." The purpose of DSLC is to enrich each participant's perspective of the adversities and benefits within diverse academic, social, and professional settings. Some of the topics to be discussed include human rights, poverty, body image, female beauty, cultural differences, and women's leadership.  
"Saint Mary's College is an academic community where women develop their talents and prepare to make a difference in the world. DSLC is an outgrowth of this mission as it explores different cultural and social issues. We carefully choose our speakers and presenters. Their stories and knowledge will motivate those who attend and inspire them to become catalysts for social change. Empowering people to make a difference is ultimately our inspiration," said Guadalupe Quintana '12, SDB's vice president.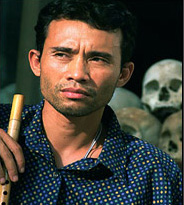 Arn Chorn-Pond, human rights
advocate This year's conference will open at noon on March 20 in Carroll Auditorium, Madeleva Hall with keynote speaker and human rights advocate Arn Chorn-Pond. As a child, Chorn-Pond's family was executed during the Cambodian genocide of the 1970s. He was held in a Khmer Rouge labor camp where many children starved to death and many others were murdered. At age 14, he was forced into the Khmer Rouge army to fight the invading Vietnamese. After seeing his friends die, he fled into the jungle. He found his way to a Thailand refugee camp where he was adopted by an American relief worker, Peter Pond, and brought to the United States. Chorn-Pond has dedicated his life to end the suffering of children who are held hostage by war and violence. He is the co-founder of Children of War, an organization that helps children of war rebuild their lives.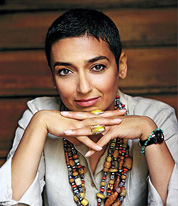 Zainab Salbi, founder of Women for
Women International Zainab Salbi, founder of Women for Women International, will give the closing address at 6 p.m. on March 21 in Carroll Auditorium. Salbi is a best-selling author and activist who has dedicated her life to helping women survivors of war and civil strife move from crisis and instability to self-reliance and active citizenship. A survivor of war herself, Salbi grew up in Iraq and was sent to America for an arranged but ultimately abusive marriage in an attempt to save her from Saddam Hussein's grasp. Stranded in America by the Gulf War, she escaped the marriage and started her life over. Her memoir, "Between Two Worlds: Escape from Tyranny: Growing Up in the Shadow of Saddam," is an account of life within Iraq's elite society and the hold that Hussein had over her family.
DSLC is one of the largest student-run conferences in the Midwest. One aspect that makes the conference unique is it offers a high school track. High school students from all over the South Bend area are invited to take part in workshops tailored to students getting ready to enter college.
"The high school track is a very important aspect of DSLC because it gives students a chance to engage in various workshops tailored to them," explained Ashley Goorhouse '12, chair of the high school track.
"Students will participate in a mock college admission committee, where they evaluate mock applications and learn what an admission office takes into consideration when reviewing college applications. There will also be a student discussion panel, which will allow high school students to ask current college students any questions they may have," Goorhouse said.
The high school track also includes a workshop titled "First Generation College Students: What to Know, What to Expect," given by Bettina Spencer, assistant professor of psychology at Saint Mary's College.
"We hope the workshops and presentations will help high school students to embrace their differences, feel empowered, and feel more confident and encouraged about applying to college," Goorhouse said.
Click for a full conference schedule. 
About Saint Mary's College: Saint Mary's College, Notre Dame, Ind., is a four-year, Catholic, women's institution offering five bachelor's degrees and more than 30 major areas of study. Saint Mary's College has six nationally accredited academic programs: social work, art, music, teacher education, chemistry and nursing. Saint Mary's College ranks among the top 100 "Best National Liberal Arts Colleges" for 2012 published by U.S.News and World Report. Founded in 1844, Saint Mary's is a pioneer in the education of women, and is sponsored by the Sisters of the Holy Cross.