"Down the Avenue" To Honor Three Women for Service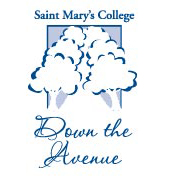 Contact:
Gwen O'Brien 
Director of Media Relations
Saint Mary's College
Notre Dame, IN 46556
(574) 284-4579
June 10, 2013 (Notre Dame, Ind.)—On Wednesday, June 19, Saint Mary's College will host Down the Avenue, an event recognizing the service of individuals who exemplify the College's mission to prepare women for roles of leadership and action. The dinner, typically held every other year, raises funds to establish a scholarship for students who are active volunteers in Michiana and supports the College's Office for Civic and Social Engagement (OCSE), which facilitates local volunteer efforts.
Down the Avenue refers to The Avenue, which is the main street through the Saint Mary's campus. The thoroughfare leads to the College and the convent of the Sisters of the Holy Cross and back out into the community. It's been a road well traveled by the three women who will be recognized with Spirit of Service Awards at Down the Avenue. All three traveled back and forth along The Avenue, to and from their various service destinations.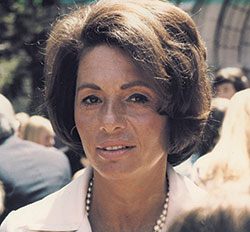 Patricia George DecioAmong the honorees is the late Patricia George Decio, a former member of the College's Board of Regents. Posthumously she will be recognized as the Community Honoree and an endowed scholarship will be established in her name. Sister Mary Turgi, CSC, who taught mathematics at the College and worked in Campus Ministry, will be the Sisters of the Holy Cross Honoree. Maeva Alexander, who graduated from Saint Mary's last month, will be the Student Honoree.
Patricia George Decio volunteered for more than 16 years at Aux Chandelles (now part of the Association for the Disabled of Elkhart County) and also gave many hours to the Elkhart General Hospital Auxiliary, Elkhart Community Day Care, and the Urban League. She helped bring the Women's Care Center to Elkhart. At the University of Notre Dame, she served on advisory councils for the Snite Museum of Art and for the performing arts. She was a member of the Saint Mary's College Board of Regents from 1981-1987. She received an honorary degree from the College in 1996 in recognition of her commitment to make her community a better place.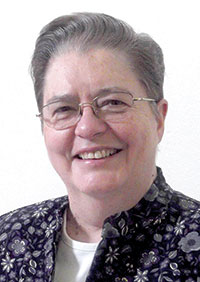 Sister Mary Turgi, CSCSister Mary Turgi has been active in social justice and systemic change initiatives for most of her life. As director of the Holy Cross International Justice Office, she works with sisters, priests, and brothers on four continents to develop a well-informed and unified Holy Cross voice on critical justice issues. The office is currently focused on ecological and economic issues. One facet of ecological economics is building thriving, resilient local communities, which is the work of the Near Northwest Neighborhood, Inc. (NNN) in South Bend. As a long-time neighborhood resident and NNN board member, Sister Mary has been instrumental in steering and strengthening the organization's neighborhood revitalization efforts, including the current Near Northwest "Quality of Life Planning Process." The 1969 Saint Mary's alumna taught mathematics at the college from1980 through 1984 and served on the Campus Ministry team from 1984 until 1991. 
Maeva Alexander, who majored in communicative disorders, hopes to serve at-risk students as a speech pathologist. During her four years at Saint Mary's, she took advantage of OCSE's many volunteer opportunities.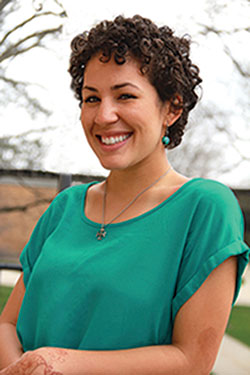 Maeva Alexander '13She devoted more than 800 hours to the College Academy of Tutoring (CAT) program, which places Saint Mary's students as tutors in local elementary schools. She served at Coquillard and Warren primary centers in South Bend. In 2012, Alexander was honored with the Patricia Arch Green Award for her work with CAT. In her senior year, she was the recipient of the Jane J. Warner Scholarship, established during the inaugural Down the Avenue event in 2002.
Alexander's response to receiving the scholarship sums up the intent of Down the Avenue. "I have learned how important it is to have advocates for the community…community service is a way for students and community members to come together from a variety of backgrounds to solve problems and achieve a common goal."
About Saint Mary's College: Saint Mary's College, Notre Dame, Ind., is a four-year, Catholic, residential, women's liberal arts college offering five bachelor's degrees and more than 30 major areas of study, such as business, nursing, art, chemistry, and social work. The College's single-gender environment has been proven, in study after study, to foster confidence, ethical leadership, and strong academic success. Saint Mary's College ranks among the top 100 "Best National Liberal Arts Colleges" for 2013 published by U.S. News. Founded in 1844 by the Sisters of the Holy Cross, Saint Mary's College's mission is to educate women and prepare them for postgraduate success whether it's a first job, graduate school, or postgraduate service.