"Ellie McDoodle" Author to Offer Professional Development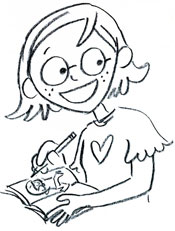 Contact:
Gwen O'Brien
Director of Media Relations
Saint Mary's College
(574) 284-4579
October 21, 2011, (Notre Dame, Ind.)—Through the generosity of the Saint Mary's College Department of Education and the Indiana State Reading Association (ISRA), the St. Joseph Valley chapter of the International Reading Association (IRA) is proud to welcome children's author Ruth McNally Barshaw to Saint Mary's College for a free interactive discussion about writing and reading with children. This professional development opportunity for area teachers and Saint Mary's education students will be held on Wednesday, November 9 from 6:30 to 8 p.m. in Carroll Auditorium, Madeleva Hall. (Download a campus map.)
Barshaw is best known for the middle grade fiction stories of Eleanor McDougal, aka "Ellie McDoodle" because she is always doodling in her sketch journals. As it says on Barshaw's official website, ruthexpress.com, Ellie spies on people and carries her sketch journal everywhere. She keeps track of games, crafts, ideas, pranks, people, animals, and nature, and has an opinion on all of it. The Ellie McDoodle books include "Have Pen, Will Travel," "New Kid in School," and "Best Friends Fur-Ever."
"Ruth McNally Barshaw is a dynamic speaker whose insight into the link between text and graphics will give teachers a whole new perspective on writing," said Katherine Higgs-Coulthard, an education lecturer at Saint Mary's College and director of the St. Joseph Valley chapter of the IRA and the Michiana Writers Center. Higgs-Coulthard organized the event.
Area teachers and Saint Mary's College students interested in participating must RSVP by Tuesday, November 1 by contacting Higgs-Coulthard at higgscou@saintmarys.edu or michianawriterscenter@gmail.com or (574) 220-8798. Participants may preorder signed "Ellie McDoodle" books through Higgs-Coulthard by November 1.
At the November 9 event, the winner of a writing contest sponsored by the St. Joseph Valley chapter of the IRA and the Michiana Writers Center will be announced. Students from area schools in grades kindergarten through 12 were invited to write stories using Barshaw's style. The author served as the honorary judge for the contest. On November 10, Barshaw will visit the winning student's school and speak to his/her class about writing.
"We hope that the annual contest exposes students to different authors and new types of writing and gives teachers a great motivational tool," Higgs-Coulthard said.
The contest was open to area K-12 schools. Schools that sent submissions to this year's contest include: Kennedy Primary Center (South Bend Community School Corporation); Northpoint Elementary School, Mary Frank Elementary School, Horizon Elementary School, and Meadow's Edge (Penn Harris Madison Schools); LaSalle Elementary (School City of Mishawaka); and St. Adalbert School, St. Pius X Catholic School, and St. Joseph High School (Diocese of Ft. Wayne-South Bend).
About Saint Mary's College: Saint Mary's College, Notre Dame, Ind., is a four-year, Catholic, women's institution offering five bachelor's degrees and more than 30 major areas of study. Saint Mary's College has six nationally accredited academic programs: social work, art, music, teacher education, chemistry and nursing. Saint Mary's College ranks among the top 100 "Best National Liberal Arts Colleges" for 2012 published by U.S.News and World Report. Founded in 1844, Saint Mary's is a pioneer in the education of women, and is sponsored by the Sisters of the Holy Cross.