Student Wins Regional Playwriting Award, up for Two National Awards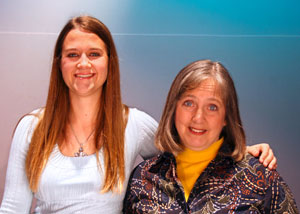 Emily Schmitt '12 poses with Susan Baxter. The two worked
on a SISTAR grant project together which resulted in Schmitt
winning a regional playwriting award. Contact:
Gwen O'Brien
Director of Media Relations
Saint Mary's College
Notre Dame, Ind.
(574) 284-4579
December 21, 2011 (Notre Dame, Ind.)—Saint Mary's College is proud to announce that Emily Schmitt '12, of Cincinnati, Ohio, won a regional playwriting competition for her play San Luis 1989, and her work will be considered for two national awards. Schmitt, a theatre and philosophy double major with a minor in Spanish, wrote the play over the summer. The project is the result of a Student Independent Study and Research (SISTAR) grant that she and Susan Baxter, a Department of Communication Studies, Dance, and Theatre faculty member, received through the College's Center for Academic Innovation.
Schmitt learned this month that she won the Kennedy Center American College Theatre Festival (KCACTF) Region 3 full-length playwriting competition, chosen from about 30 full-length scripts. Schmitt's play will be read at the Region 3 festival, held at the University of Illinois at Urbana-Champaign January 3-7, where up to 1,800 theatre students and faculty from the Midwest will converge. When the eight KCACTF regional festivals conclude in April, Schmitt's play will be considered for the Michael Kanin National Student Playwriting Award. In addition, KCACTF selected her play to compete with the works of seven student playwrights for the National Partners of the American Theatre Playwriting Award, an even more prestigious national award.
Baxter notes that San Luis 1989 never would have been written without the SISTAR grant. These grants offer students and professors the opportunity to conduct research and engage in creative activity on a one-on-one basis. In this case, Schmitt and Baxter, who teaches journalism and playwriting courses, worked together on separate but complementary projects: Schmitt's play and the play as the case study for a book Baxter is writing.
San Luis 1989 is based on actual events. The play depicts the life of Clyde Montoya, a hard-working farmer struggling to make ends meet when he encounters John Morgan, an undercover federal agent, who offers him the chance to make easy money selling illegal antlers, meat, and feathers. The play is set in San Luis, Colorado, in 1989. Montoya is among 110 people arrested for illegal trapping and poaching. A judge would later rule that he had never seen a case in which entrapment by authorities was so obvious.
"For me, this award means not only a recognition of my own hard work, but an affirmation of the importance of this particular story. It is a chance to spread the word about San Luis, which is very important to me," Schmitt said.
Baxter, who was a reporter in southern Colorado in the late 1980s, gave Schmitt the idea for the play. "This story really ignited Emily's sense of social justice, and she speaks Spanish," said Baxter, noting that Schmitt was able to delve deeper into the story than reporters at the time because she spoke the language of the accused.
Schmitt did extensive research on the case, which led her and Baxter to Colorado. There, Schmitt pored over court transcripts, microfilm of news accounts, and conducted journalistic interviews with those involved. Schmitt's playwriting process was the convergence of journalism (fact gathering) and theatre, a method that is the subject of Baxter's forthcoming book.
"Even though it has fictional elements, I think her play is better journalism than we saw from the reporters of the day. Emily does a great job with balance, and gives a voice to the frustration of the people of the town," said Baxter. "Secondly, she allowed herself to write an epic. The play covers years and many locations and characters. She didn't confine herself to the stage play 'formula.' She wrote what she had to write, and the play is better for it."
Schmitt said writing the play was a long and challenging process, but "Susan provided me with the training and tools to learn how to interview and research from a journalistic perspective. I would write a draft and then I would send it to Susan for feedback. She gave me her reactions and I would then go do a re-write. Writing a play is a very solitary process. Most of the summer I spent at my computer working alone, and I think that is probably the most challenging part of the process."
Schmitt and Baxter have known each other since Schmitt was in middle school and attended Fine Arts Camp at Saint Mary's. Baxter taught playwriting at camp. "It was obvious even then that Emily was a prodigiously gifted writer," Baxter recalled.
Schmitt would later come for a college visit in search of the Fine Arts Camp teacher who inspired her. "Susan has been an amazing mentor to me from day one. I knew I wanted to come to Saint Mary's when I was visiting her class and she recognized me from Fine Arts," Schmitt remembered. "She always believed in my abilities. I've never had a relationship with a teacher that was anything like this."
Baxter will attend the Region 3 festival with Schmitt. Richard Baxter, director of special events at Saint Mary's College and Susan's husband, will direct Schmitt's play reading there. Three other Saint Mary's faculty will attend the festival, as will several theatre students, who will read parts in Schmitt's play. In additions, about 10 Saint Mary's students will be competing for awards at the festival ranging from acting to stage management to design.
Schmitt is applying to playwriting graduate programs and plans to be a professional playwright.
About Saint Mary's College: Saint Mary's College, Notre Dame, Ind., is a four-year, Catholic, women's institution offering five bachelor's degrees and more than 30 major areas of study. Saint Mary's College has six nationally accredited academic programs: social work, art, music, teacher education, chemistry and nursing. Saint Mary's College ranks among the top 100 "Best National Liberal Arts Colleges" for 2012 published by U.S.News and World Report. Founded in 1844, Saint Mary's is a pioneer in the education of women, and is sponsored by the Sisters of the Holy Cross.