Students to Perform "The Enchanted Pig," a Fairytale Opera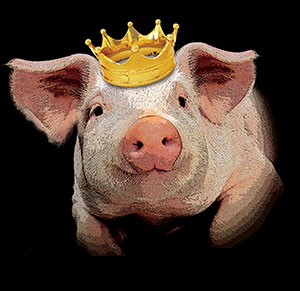 Contact:
Gwen O'Brien
Director of Media Relations
Saint Mary's College
(574) 284-4579
January 29, 2014 (Notre Dame, Ind.)—In February the Saint Mary's College Department of Music Department will proudly present the fun-filled fairy tale The Enchanted Pig. This opera musical by British composer Jonathan Dove will be performed at 7:30 p.m., Thursday, Feb. 20 through Saturday, Feb. 22. There will also be a matinee performance that Saturday at 2 p.m. Performances will be held in Little Theatre, Moreau Center for the Arts. Box office information is listed below and can be found at MoreauCenter.com.
This delightful tale of love's triumph over envy, greed, and a witch's spell has been billed as "a musical fable." The story is centered on a princess who is destined to marry a pig. She submits to her fate when the pig, an undercover prince who has been "bewitched," makes an appearance at her father's court. The tale features an exciting number of twists and turns that promises to keep the audience in stitches. The director of the opera, Saint Mary's College's associate professor of music Laurel Thomas, shared, "There are so many exciting moments of the opera. From the pig being transformed to a handsome prince and back again, to the funny duet between Mr. and Mrs. North Wind, to the mystical musical of the moon, it's almost impossible to choose the best scene." 
The Enchanted Pig will feature 17 cast members, where almost every performer plays more than one role. The lead roles are played by Saint Mary's students Victoria Connelly '15, Jena Sweigart '15, Sarah Miller '15, Madeline Zuniga '16, Katie Przybylski '16, Alex Habecker '17, Giovanna Posselius '17, Sarah McKevitt '17, Holly Higdon '16, and Hannah Sweet '15. Indiana University South Bend students, Delshawn Taylor and Kearn Hinchman are double cast as the pig. Notre Dame students, Carlos Torres and Peter Gonzales are double cast as the King of the East.
The cast consists of six professional musicians who make up the chamber orchestra for the performance. "The music ranges from a beautiful, sweeping, operatic style to a soft shoe number and other selections that sound distinctly like musical comedy," Thomas said. Orchestra leader and rehearsal accompanist, Sherry Klinedinst, is a large contributor to the show's development. The program will also feature costume designer, Melissa Bialko and technical director, Michaela Duffy, both Saint Mary's theatre faculty members. This family-friendly performance put on by is sure to entertain, Thomas said.
Tickets can be purchased at MoreauCenter.com or by calling the Box Office at (574) 284-4626.
Ticket prices for evening shows:
Adults: $11
Senior Citizens: $9
SMC/ND/HCC faculty and Staff: $8
SMC/ND/HCC Students: Free
Children (12 and under): $5
Ticket prices for matinee, Feb. 8 ("family-friendly" pricing*):
Adults: $8
Senior Citizens: $6
SMC/ND/HCC faculty and Staff: $5
SMC/ND/HCC Students: Free
Children (12 and under): Free

*For an even steeper discount to the matinee, please contact the Moreau Box Office for a "family friendly" bundle opportunity to purchase tickets to this matinee and Dance Arts 2014: Live, Love, Dance, on Saturday, Feb. 8.
About Saint Mary's College: Saint Mary's College, Notre Dame, Ind., is a four-year, Catholic, residential, women's liberal arts college offering five bachelor's degrees and more than 30 major areas of study, such as business, nursing, art, chemistry, and social work. The College's single-gender environment has been proven, in study after study, to foster confidence, ethical leadership, and strong academic success. Saint Mary's College ranks 76 among the 248 "Best National Liberal Arts Colleges" for 2014 published by U.S. News and World Report. Founded in 1844 by the Sisters of the Holy Cross, Saint Mary's College's mission is to educate women and prepare them for postgraduate success whether it's a first job, graduate school, or postgraduate service.