Saint Mary's College's Endowment Outperforms National Average in FY 2011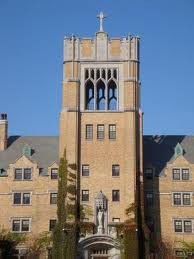 Contact:
Gwen O'Brien 
Director of Media Relations
Saint Mary's College
Notre Dame, IN 46556
(574) 284-4579
January 31, 2012 (Notre Dame, Ind.)—The health of endowments at U.S. colleges and universities improved significantly in the 2011 fiscal year (July 1, 2010-June 30, 2011), and Saint Mary's College's endowment showed a better than average return compared to its peers. According to data released today by the NACUBO–Commonfund Study of Endowments (NCSE), the 823 colleges and universities that responded to the NCSE survey saw an average return on their endowments of 19.2 percent. Saint Mary's College's endowment showed a return of 21.4 percent, outperforming its average peer by 2.2 percent.
"What this says is that Saint Mary's College and the Investment Committee of the Board of Trustees have developed a well thought-out and disciplined investment approach for these very volatile times," said Bruce Fink, director of investments at Saint Mary's College. "A 20-plus percent return is a strong return, but it's not going to happen every year. We expect that markets will continue to be extremely volatile and have structured our portfolio accordingly. Our long term goal is to maintain a portfolio which can fully participate when markets are strong while protecting capital where possible when markets aren't."
In its press release, the NCSE reported the 19.2 percent average represents a marked improvement over the 11.9 percent average return reported for fiscal year 2010 and a continuation of recovery from the -18.7 percent average return reported for fiscal year 2009 when the financial crisis and accompanying slide in equity markets negatively affected educational endowments.
As of June 30, 2011, when participating colleges and universities submitted their numbers to the NCSE, the Saint Mary's endowment was $128 million. This represents a 30 percent increase in the value of the endowment from what Saint Mary's reported for the 2009 NCSE report in the aftermath of the 2008 financial crisis. Strong investment performance and generous donor gifts to Saint Mary's were central factors driving this growth, enabling the endowment to continue in its support of the College.
Throughout the financial crisis and in the time since, the endowment has maintained its level of support of the College. "Over this period, we have been able to distribute about six million dollars each year from the endowment, a significant portion of which is for student scholarships and financial aid," Fink points out.
The NCSE is the largest and most comprehensive annual study of endowment assets held by public and private, non-profit colleges and universities. The study examines endowments' investment performance, asset allocation, spending policies, and governance. Click to see an Associated Press article based on today's NCSE press release.
About Saint Mary's College: Saint Mary's College, Notre Dame, Ind., is a four-year, Catholic, women's institution offering five bachelor's degrees and more than 30 major areas of study. Saint Mary's College has six nationally accredited academic programs: social work, art, music, teacher education, chemistry and nursing. Saint Mary's College ranks among the top 100 "Best National Liberal Arts Colleges" for 2012 published by U.S.News and World Report. Founded in 1844, Saint Mary's is a pioneer in the education of women, and is sponsored by the Sisters of the Holy Cross.