Erin Gruwell, Famous for "Freedom Writers," to Speak Nov. 16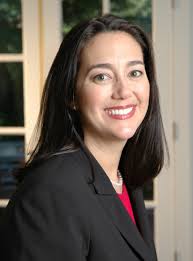 Educator and author Erin Gruwell,
famous for the Freedom Writers, will
speak at the College on Nov. 16.Contact:
Gwen O'Brien
Director of Media Relations
Saint Mary's College
(574) 284-4579

October 30, 2013 (Notre Dame, Ind.)—Saint Mary's College is pleased to welcome Erin Gruwell, educator and founder of the Freedom Writers Foundation, to speak about "Teaching Tolerance." The event will begin at 10 a.m. on Saturday, Nov. 16 in Little Theatre, Moreau Center for the Performing Arts. The public is invited to this free event, which celebrates diversity and understanding and takes place on the United Nations International Day of Tolerance. Gruwell's talk will take place following cultural performances by Saint Mary's College students. Gruwell will also sign copies of her book. (SPACE IS LIMITED. PLEASE ARRIVE EARLY TO EVENT TO GET A SEAT.)
Gruwell has earned an award-winning reputation for her steadfast commitment to the future of education which values and promotes diversity. Her impact as an agent of change has attracted much attention, including that of Hollywood. In 2007 Paramount Pictures released Freedom Writers, a movie starring two-time Oscar winner Hilary Swank as Gruwell. The film is based on The Freedom Writers Diary, the NewYork Times bestseller that chronicled Gruwell's journey with 150 high school students who had been written off by the education system.
Penn High School sophomore Katie Laiman approached the College with her idea to bring Gruwell to South Bend as her Girl Scout Gold Award Project. Her project's focus was to create an event promoting tolerance and diversity. Laiman moved to the South Bend area last year and found it to be less diverse and accepting than her hometown in southern California. She had heard Gruwell speak before and wanted to bring her here, but she needed sponsorship and assistance. "After living in a very culturally diverse and accepting community for most of my life, it came as a big shock to me that some places were still fighting racial stereotypes," Laiman said.
Elaine Meyer-Lee, director of the Center for Women's Intercultural Leadership at Saint Mary's College, said, "We were impressed with Katie's very articulate vision to hold an event celebrating the U.N. International Day of Tolerance, with Erin Gruwell as the keynote speaker. There was serendipity in that the Saint Mary's Education Club had wanted to bring Gruwell to the College."
She added, "We are excited about the groups of students on campus who might be inspired by this event to find their own role in working against intolerance. We also value the idea of partnering with local high school student and teacher leaders, especially after the awareness of needs gained from our recent report on The Status of Girls in Indiana." Saint Mary's released The Status of Girls in Indiana 2013 report last month, which focuses on Hoosier girls 10 to 19. The report exposes that many Hoosier girls suffer from low self-esteem, are victims of abuse, struggle with poverty, and seemingly lose confidence in subjects like math and science in high school. (To download a copy of The Status of Girls in Indiana report, go to: saintmarys.edu/StatusOfGirls)
As a high school English teacher in Long Beach, Calif., Gruwell encouraged her students to rethink rigid beliefs about themselves and others, reconsider daily decisions, and ultimately transform their futures. With her support, they left behind futures that could have included teen pregnancy, drugs, and violence to become aspiring college students, published writers, and citizens for change. Her students called themselves the Freedom Writers — in homage to the civil rights activists the Freedom Riders — and published a book. The Freedom Writers Diary itself was inspired by The Diary of Anne Frank and chronicles the students' journey against intolerance and misunderstanding.
Gruwell founded the Freedom Writers Foundation where she teaches teachers around the country how to implement her innovative lesson plans into their classrooms. Her teaching methods have also been published in the Freedom Writers Diary Teacher's Guide, with proceeds funding the foundation. She also authored her memoir, Teach with Your Heart.
The event is co-sponsored by the Girl Scouts of Northern Indiana-Michiana and the following Saint Mary's organizations, centers, and offices: the Education Club, the Center for Women's Intercultural Leadership, the Office for Civic and Social Engagement, Student Involvement and Multicultural Services, and the Student Government Association.
About Saint Mary's College: Saint Mary's College, Notre Dame, Ind., is a four-year, Catholic, residential, women's liberal arts college offering five bachelor's degrees and more than 30 major areas of study, such as business, nursing, art, chemistry, and social work. The College's single-gender environment has been proven, in study after study, to foster confidence, ethical leadership, and strong academic success. Saint Mary's College ranks 76 among the 248 "Best National Liberal Arts Colleges" for 2014 published by U.S. News and World Report. Founded in 1844 by the Sisters of the Holy Cross, Saint Mary's College's mission is to educate women and prepare them for postgraduate success whether it's a first job, graduate school, or postgraduate service.