"Everybody's Hero: The Jackie Robinson Story" Coming Feb. 17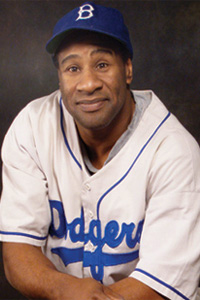 The Mad River Theater Works production
of "Everybody's Hero: The Jackie
Robinson Story" is Monday, Feb. 17.Contact:
Gwen O'Brien
Director of Media Relations
Saint Mary's College
(574) 284-4579
January 24, 2014 (Notre Dame, Ind.)—The Saint Mary's College Office of Special Events is proud to present the Mad River Theater Works production of Everybody's Hero: The Jackie Robinson Story. The musical, which is part of this year's Shaheen/Duggan Performing Arts Series, will be presented on Monday, Feb. 17 at 7:30 p.m. in O'Laughlin Auditorium. Click for a campus map. Ticket information can be found at at MoreauCenter.com or at the end of this press release.
Everybody's Hero tells the courageous story of Jackie Robinson, the first African-American to play major league baseball—a sport commonly identified as America's national past time. Robinson's emergence into the league not only shed a new light on African-Americans historically, but he changed the game of baseball forever.
Richard Baxter, director of Special Events at Saint Mary's College was eager to bring Mad River Theatre Works back to campus after the troupe's visit in February 2012 when they presented Freedom Bound, a play about the Underground Railroad. He said the story of Jackie Robinson is inspirational on many levels. "Like the four sisters from France who pioneered this institution, Jackie Robinson was a courageous leader of his time. He made it possible for baseball players of all ethnic backgrounds to follow his path, and he accomplished this is a professional and grace-filled manner."
This production incorporates Robinson's lasting legacy, and assists the commemoration of National Black History month, which is February.
Tickets can be purchased at moreaucenter.com or by calling the Box Office at (574) 284-4626.
Adults: $15
Senior Citizens: $14
SMC/ND/HCC Faulty and Staff: $12
SMC/ND/HCC Students: $10
About Saint Mary's College: Saint Mary's College, Notre Dame, Ind., is a four-year, Catholic, residential, women's liberal arts college offering five bachelor's degrees and more than 30 major areas of study, such as business, nursing, art, chemistry, and social work. The College's single-gender environment has been proven, in study after study, to foster confidence, ethical leadership, and strong academic success. Saint Mary's College ranks 76 among the 248 "Best National Liberal Arts Colleges" for 2014 published by U.S. News and World Report. Founded in 1844 by the Sisters of the Holy Cross, Saint Mary's College's mission is to educate women and prepare them for postgraduate success whether it's a first job, graduate school, or postgraduate service.