Two Choral Events This Week Hosted By Music Department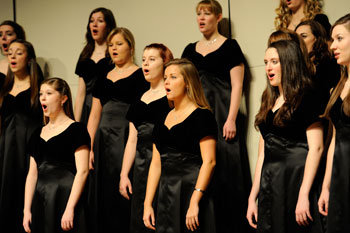 Saint Mary's College Women's ChoirContact:
Gwen O'Brien
Director of Media Relations
Saint Mary's College
(574) 284-4579
October 31, 2012 (Notre Dame, Ind.)—The Saint Mary's College Department of Music will host two special women's choral events in mid-November. The Fall Choral Concert will be held on Wednesday, November 14 at 7:30 p.m. in O'Laughlin Auditorium. The College will also host the 28th annual High School Women's Choir Festival Thursday, November 15 and Friday, November 16 in O'Laughlin. Click for a campus map.
The Fall Choral Concert will include performances by the Saint Mary's College Women's Choir, the Collegiate Choir, and Bellacappella, a student a cappella group. The accompanist for the choirs is Hyeja Chong Ganahl, a member of the Saint Mary's music faculty. Nancy Menk, professor of music, director of choral activities and the Mary Lou and Judd Leighton Chair in Music, is planning and executing these two events.

"The Fall Choral Concert is a chance for us to show what we've been working on since the academic year started," Menk said. "The Women's Choir has begun their preparation for their spring break tour to southern states. Repertoire includes works by American composers Stephen Paulus, Sheena Phillips, Jake Runestad, and Paul Carey, Icelandic composer Hildigunnar Runarsdottir, and Korean composer Tae Kym Ham."

The High School Women's Choir Festival, meanwhile, will be held from 10 a.m. to 3 p.m. on November 15 and 9:30 a.m. to 4:30 p.m. on November 16, with Saint Mary's Women's Choir and Bellacapella performing each day at 12:10 p.m. Approximately 600 students will participate in the festival, representing 16 choirs from Illinois, Indiana, Michigan and Ohio. Local choirs include Niles High School, Penn High School, La Porte High School, and Trinity School at Greenlawn. Each choir will perform three or four pieces and receive written evaluations from commentators.
Three well-respected commentators will evaluate the choirs. This year, the festival is proud to have Dr. J. Scott Ferguson from Illinois Wesleyan University in Bloomington, IL, Dr. Lee Nelson from Wartburg College in Waverly, IA, and Dr. Julie Skadsem from the University of Michigan in Ann Arbor.
 "The commentators will work with the students and give them pointers on how to improve their singing," Menk said. "The high school choirs will receive both written comments as well as an open clinic."
Choirs will perform for each other during the morning and afternoon sessions. The day also includes a tour of the campus and a performance by the Saint Mary's College Women's Choir.
 "It also gives Saint Mary's a chance to showcase our choir and promote good choral singing for young women. We serve as a good model to these high school students," said Menk.
About Saint Mary's College: Saint Mary's College, Notre Dame, Ind., is a four-year, Catholic, women's institution offering five bachelor's degrees and more than 30 major areas of study. Saint Mary's College has six nationally accredited academic programs: social work, art, music, teacher education, chemistry and nursing. Saint Mary's College ranks among the top 100 "Best National Liberal Arts Colleges" for 2013 published by U.S. News. Founded in 1844, Saint Mary's is a pioneer in the education of women, and is sponsored by the Sisters of the Holy Cross.