College and community say farewell to beloved Sister Basil Anthony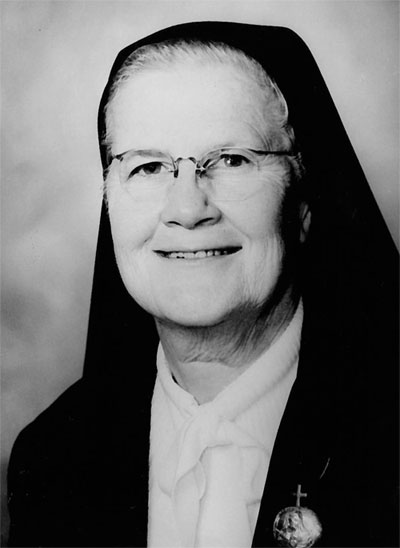 On Wednesday, December 21, College faculty and staff, both active and retired, Sisters of the Holy Cross Congregation, and alumnae filled the Church of Loretto for the funeral mass of Sister Basil Anthony O'Flynn who died on Friday, December 16 at the age of 94.
Sister B.A., as she was known, began her tenure at the College in 1956 as a part-time faculty member teaching theology. She went on to hold every administrative post at Saint Mary's except for president. From 1979-1998 she served as assistant to the vice president for college relations, working closely with alumnae, until retiring at the age of 80.
Celebrant Father Jim Bracke, chaplain for the Sisters, delivered a warm and humorous homily that spoke about Sister B.A.'s imposing figure, yet warm heart. At nearly six feet tall, Sister B.A. could be intimidating, yet, she had a sense of humor and love for others that made her a favorite of all who had the good fortune to know her.
In her tribute to Sister B.A., Sister M. Joan Elizabeth said, "she had the ability to laugh at herself, lighten the conversation, and face the reality with a calmness that brought a reasonable conclusion". The full text of that tribute can be found below.
Burial took place immediately following Mass at Our Lady of Peace cemetery on the campus. Those gathered said a final good-bye to Sister B.A. by singing "When Irish Eyes are Smiling". While they left the ceremony with sadness for the loss of a beloved colleague, mentor, and friend, all present were comforted knowing her Irish eyes will continue to smile down on the Saint Mary's community. Sister B.A. is a part of Saint Mary's heritage and she will not be forgotten.
Memento - Sister Basil Anthony
September 2, 1917 - December 16, 2011
Sister Basil Anthony, Brigid Anne O'Flynn, was born in Washington, D.C., September 2, 1917, to James O'Flynn and Maria Keady O'Flynn. Both of her parents were born in Ireland. Growing up in a loving family with parents and a brother two years older, she attended grade school in Washington, D.C., and attended Dominican High School there, as well. She attended night school at the young Dunbarton College, and worked as secretary during the day.
Her mother died when Brigid graduated from high school. Although she had thought about religious life, she felt an obligation to stay with her father who was twenty years older than her mother. Her father died six years after her mother. It was at that time in 1941 that she entered the congregation. She received the habit in 1942, made first profession in 1944, and final profession in 1947. She completed her bachelor's degree in English and philosophy in 1946, her master's degree in theology from Saint Mary's School of Sacred Theology in 1949, and a master's degree in education from Notre Dame in 1967.
In her own words she said that her parents instilled in both of their children a deep faith, and a love of learning. Her brother, Anthony, was a Jesuit priest, who preceded Brigid in death in 1993.
Much has been written about Sister Basil Anthony's life, her ministry, and the influence, which she had on the many persons whose lives she touched. It could be said that her ministry life had three particular phases. The first was her internal ministry to the congregation, which began before her final profession, another was her ministry in many different areas at Saint Mary's College, and health care ministry, which, although a desire of Sister Basil Anthony herself, was also encouraged and supported by her superiors. Of health care, she said she felt perfectly at home in her first ministry in Anderson and then in Columbus as she ministered in the pastoral care departments of these institutions.
Her special respect and love for Mothers Rose Elizabeth and Kathryn Marie are evident as one reads an interview which is chronicled in the archives. Her learning from each of these women was life-long and prepared her for the challenges which were part of her future years; especially in the various positions, which she held at Saint Mary's College. The turbulent 1960s and 70s saw Sister as dean of students at Saint Mary's College. Following that she was vice president for fiscal affairs, vice president of public relations and development, and a member of the Board of Regents, where she served as the chair for two terms.
To many alumnae Sister B.A. was and is Saint Mary's College. She was called upon for her wisdom and insight that came from her deep faith, her love of all people, and her sense of humor. She had the ability to laugh at herself, lighten the conversation, and face the reality with a calmness that brought a reasonable conclusion. Bob and Mary Kelly McLaughlin established the scholarship fund in her name because they wanted to give expression and show appreciation felt by so many alumnae. "We all love her," explains Mary. "With her strength, her loyalty, her faith, and her personal interest in and concern for everyone whose life she touches, she is Saint Mary's for us."
In 1994 she received the President's Medal. Upon receiving the medal presented to her by Dr. Hickey, she said, "I don't need a medal, I've given my life to this place."
On the occasion of her 90th birthday, Saint Mary's College hosted an open house in her honor. It was a memorable and happy occasion for Sister Basil Anthony. She admitted that it wasn't scary to be 90 years of age. Many alumnae sent messages, and many came in person to greet her. She enjoyed reading the messages long after her birthday.
She is quoted as having said, "Faith in God is knowing that He loves and cares for us. Faith in our neighbor is being able to overlook an awful lot of flaws in order to help or believe in their abilities. I keep my eyes on eternity because I think that's important, but while I'm around I want to enjoy it."
There have been many conversations expressing our love and respect for Sister B.A. We will miss her, but know that she is with her God, her parents, her brother, Anthony, her Sisters in community, and her many friends, especially the alumnae of Saint Mary's College. Basil, rest in peace.
- Sister M. Joan Elizabeth (Johnson)
  December 21, 2011