Saint Mary's College Announces 4-Year Graduation Promise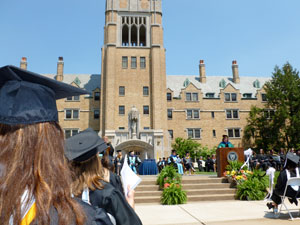 Commencement on Le Mans Green in front of the iconic
Le Mans HallContact:
Gwen O'Brien
Director of Media Relations
Saint Mary's College
Notre Dame, Ind.
(574) 284-4579
April 2, 2013 (Notre Dame, Ind.)—At a time when the national dialogue about higher education is centered on cost and value, Saint Mary's College is proud to announce the Four-Year Graduation Promise. Starting in the fall with the incoming Class of 2017, students who follow the promise's guidelines are guaranteed to graduate in four years or the College will pay for any additional courses a student needs to earn her degree. No other college or university in the area offers such a promise.

"This isn't a recruitment strategy for us, or a new initiative on campus," said Saint Mary's College President Carol Ann Mooney. "Our students have always worked closely with their advisors and professors to stay on track and achieve their goals. We offer the courses they need, when they need them, led by exceptional faculty who are dedicated to teaching."

As a result, in the past 10 years, 93 percent of Saint Mary's graduates have earned a degree in four years. Compare this to the percentage of graduates that complete a degree in four years at other non-profit privates (78 percent) and public institutions (52 percent)*. The cost of not finishing in four years can be high with students paying an additional year of tuition and other incidental costs. Add to that the lost wages from a delayed career start and the amounts can be significant.

Saint Mary's Four-Year Graduation Promise comes at a time when President Barack Obama and others are calling on colleges/universities to make college affordable, provide value for American families, and prepare students with a solid education in their careers. One way to significantly manage the cost of a college education is to graduate in four years.
"At Saint Mary's we believe that a college degree should be completed in four years. Lost time is lost money. Finishing college in eight semesters is a key way to make higher education more affordable," Mooney said.
The Four-Year Graduation Promise enables students to benefit from a Saint Mary's education with the confidence they can achieve their goals in four years.
Mooney adds, "The value of a Saint Mary's education is immeasurable. We believe that small, discussion-based classes are critical to the development of leaders who know how to listen, ask good questions, and articulate their ideas. We believe that young women become more active global citizens if they learn in an environment built on core values of community, faith, and justice."
Click for more details about the promise and its conditions.

*These figures are based on the percentage of total graduates in eight years who graduate in four-years or less.  Data comes from the National Center for Educational Statistics IPEDS Data Center using the 2003 entering cohort data graduating in eight years.
About Saint Mary's College: Saint Mary's College, Notre Dame, Ind., is a four-year, Catholic, residential, women's liberal arts college offering five bachelor's degrees and more than 30 major areas of study, such as business, nursing, art, chemistry, and social work. The College's single-gender environment has been proven, in study after study, to foster confidence, ethical leadership, and strong academic success.  Saint Mary's College ranks among the top 100 "Best National Liberal Arts Colleges" for 2013 published by U.S. News. Founded in 1844 by the Sisters of the Holy Cross, Saint Mary's College's mission is to educate women and prepare them for postgraduate success whether it's a first job, graduate school, or postgraduate service.