Mayor of Gary, Karen Freeman-Wilson, to Speak at Saint Mary's College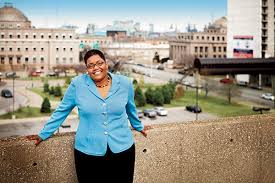 Karen Freeman-Wilson, mayor of the City of Gary, Ind.,
will speak at Saint Mary's on Nov. 18.Contact:
Gwen O'Brien
Director of Media Relations
Saint Mary's College
(574) 284-4579
November 11, 2013 (Notre Dame, Ind.)—Saint Mary's College is pleased to announce that Karen Freeman-Wilson, mayor of Gary, Ind., will speak at the College on Monday, Nov. 18 at 6 p.m. Her presentation is titled "Want to Learn About Leadership?" and will be held in the Student Center Lounge. Students enrolled in the social work course Intercultural Leadership Development organized the speaking engagement, which is free to attend and open to the public. The talk is sponsored by the Saint Mary's College Department of Social Work and the Office of Civic and Social Engagement and is part of the Cross Currents Program's Collegiate Speakers Series, funded by the Lilly Endowment's Initiative to Promote Opportunities through Educational Collaborations. 
In her talk, Freeman-Wilson will address leadership skills, barriers to leadership, diversity in leadership, and females in leadership roles. Leonardo Sanchez, professional specialist of social work who teaches the course, said one of the goals of the course is to increase students' knowledge of the values and ethics pertaining to intercultural leadership with emphasis on women, minorities, and diversity.
Sanchez said as part of the course, he has students write letters to female leaders in the region asking if they would be interested in speaking to the class about their life and community action. This year, student Brooke Fowler '15, a native of Highland, Ind. near Gary, chose to write her letter and invitation to Freeman-Wilson. When the mayor accepted, the class decided to open up the talk to a wider audience.
Freeman-Wilson, a native of Gary, was elected mayor of the steel city in November 2011. She is not only the first woman to lead the city, but also the first African American female to serve as mayor in the state. She was valedictorian of her graduating class at Roosevelt High School and went on to graduate, with honors, from Harvard University and Harvard Law School. She has served as CEO of the National Association of Drug Court Professionals and executive director of the National Drug Court Institute based in Washington, D.C. As a twice-elected Gary City Judge, Freeman-Wilson helped pioneer the drug court movement in Indiana.
About Saint Mary's College: Saint Mary's College, Notre Dame, Ind., is a four-year, Catholic, residential, women's liberal arts college offering five bachelor's degrees and more than 30 major areas of study, such as business, nursing, art, chemistry, and social work. The College's single-gender environment has been proven, in study after study, to foster confidence, ethical leadership, and strong academic success. Saint Mary's College ranks 76 among the 248 "Best National Liberal Arts Colleges" for 2014 published by U.S. News and World Report. Founded in 1844 by the Sisters of the Holy Cross, Saint Mary's College's mission is to educate women and prepare them for postgraduate success whether it's a first job, graduate school, or postgraduate service.